Landscape Architecture I + II
Lecture Series 'History and Theory of Garden Design and Landscape Architecture' (Landscape Architecture I), Autumn Semester
Lecture Series 'Theory and Design in Contemporary Landscape Architecture' (Landscape Architecture II), Spring Semester
Both lecture series deal with the development of designed nature from the earliest cultural landscapes and gardens to contemporary and forthcoming tasks of landscape architecture. Currently, the lecture series 'Theory and Design in Contemporary Landscape Architecture' is being taught by Professor Christophe Girot.
The lectures are held in English and take place every Friday, 8:00–9:45 am at HIL E3. For further information please take a look at the course catalogue, download the lecture program and watch our video lectures.
Here you can find further Information about the Exams in Landscape Architecture I+II.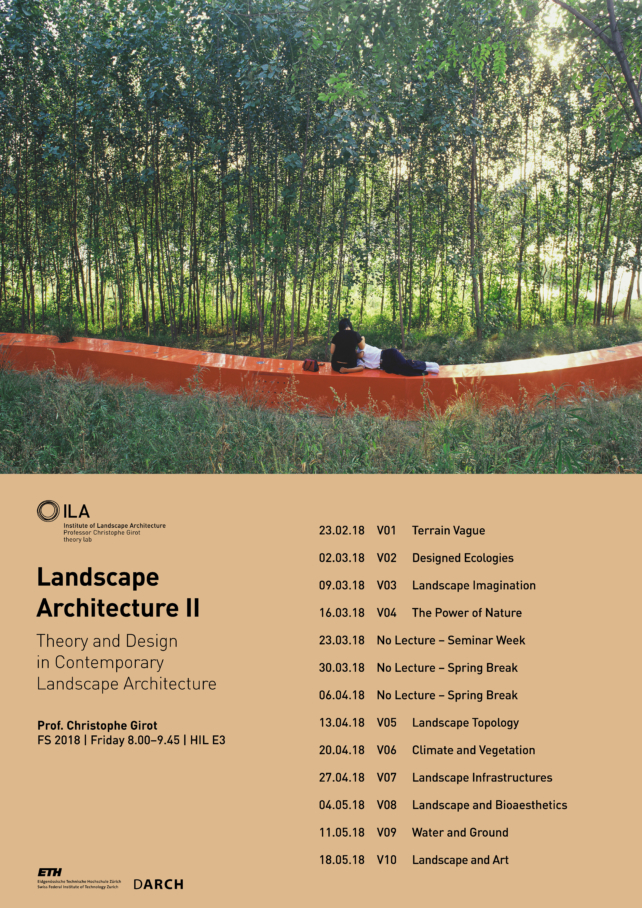 LECTURE PROGRAM
23.02.2018 I V01 I Terrain Vague – Handout
02.03.2018 I V02 I Designed Ecologies – Handout
09.03.2018 I V03 I Landscape Imagination – Handout
16.03.2018 I V04 I The Power of Nature – Handout
23.03.2018            No Lecture – Seminar Week
30.03.2018            No Lecture – Spring Break
06.04.2018            No Lecture – Spring Break
13.04.2018 I V05 I Landscape Topology – Handout
20.04.2018 I V06 I Climate and Vegetation – Handout
27.04.2018 I V07 I Landscape and Infrastructure – Handout
04.05.2018 I V08 I Landscape and Bioaesthetics – Handout
11.05.2018 I V09 I Water and Ground – Handout
18.05.2018 I V10 I Landscape and Art – Handout
Contact: Isabelle Fehlmann