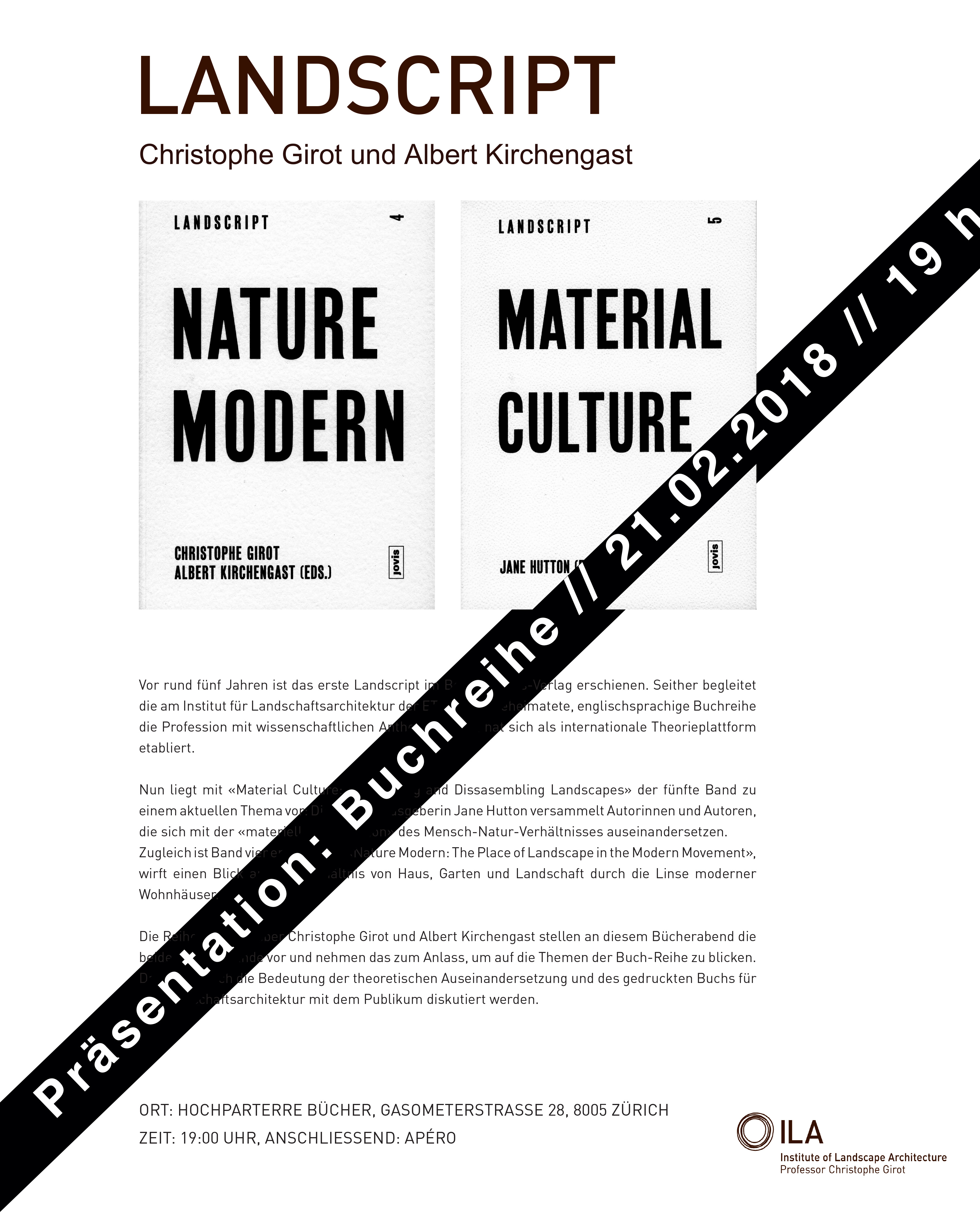 Vor rund fünf Jahren ist das erste Landscript im Berliner jovis-Verlag erschienen. Seither begleitet die am Institut für Landschaftsarchitektur der ETH Zürich beheimatete, englischsprachige Buchreihe die Profession mit wissenschaftlichen Anthologien und hat sich als internationale Theorieplattform etabliert.
Nun liegt mit «Material Culture: Assembling and Disassembling Landscapes» der fünfte Band zu einem aktuellen Thema vor: Die Gastherausgeberin Jane Hutton versammelt Autorinnen und Autoren, die sich mit der «materiellen Dimension» des Mensch-Natur-Verhältnisses auseinandersetzen. 
Zugleich ist Band vier erschienen: «Nature Modern: The Place of Landscape in the Modern Movement» wirft einen Blick auf das Verhältnis von Haus, Garten und Landschaft durch die Linse moderner Wohnhäuser.
Die Herausgeber Christophe Girot und Albert Kirchengast stellen an diesem Abend erstmals ihre Reihe vor Wiener Publikum vor und diskutieren über die Inhalte der beiden neuen Bände. Der Wiener Grafiker Willi Schmid spricht über das grafische Konzept. Mit Mathias Boeckl (architektur aktuell, Universität für angewandte Kunst) wird über die Rolle des gedruckten Wortes, von Theorie und Kritik in Architektur und Landschaftsarchitektur heute diskutiert.
weitere Informationen:
https://www.jovis.de/de/buecher/reihen/landscript.html