Best of MAS LA 2010-2011 – Student Projects:
Gubrist Realm | a project by Ankita Thaker
The design approach of the project was to create a holistic mound, which would transform over time and seasons. The form of this mound evolved out of existing highway borders, topography, material characteristics, surface water drainage, shadows, and horizons.
The concept was to keep the gravel-like grey material as it was and create a network of veins to collect water from the surface and guide it to the lowest area on site.
The design mainly functioned at two scales: firstly within the greater topographical context and secondly in terms of local surface modulation.The mound was generated using Grasshopper and Rhino, translated into physical scaled models with CNC milling, and tested through tools to achieve precision and scale comprehensibility.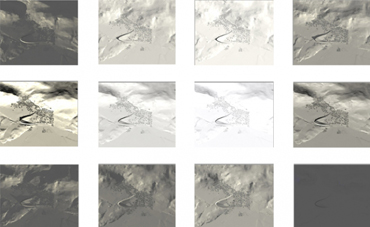 Back to Best of MAS LA 2010 – 2011 Overview.