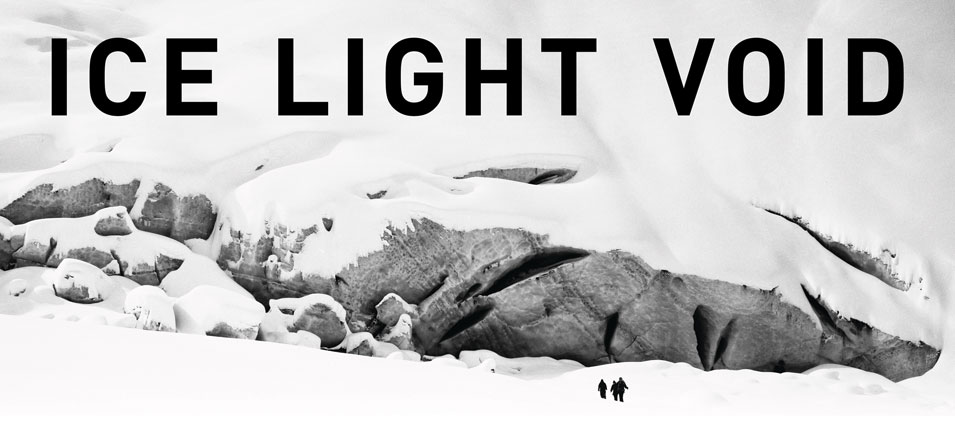 Serendipity FS17 – Audio-Visual Fieldwork
This elective course and thesis elective in the spring semester 2017 will investigate the glacier landscapes of the swiss alps.
ELECTIVE COURSE:
The glaciers formed the landscape that we live in and remain a central element in our perception of the Swiss Alps – as 'wild' nature, aesthetic experience and natural resource. Based on the changes we have seen in the last 150 years, they may soon disappear forever.
Encountering one such colossus of ice, we want to examine the glacier terminus, the point where the ice surfaces from beneath the snow. By coming in direct contact with the ice, we want to search for traces of movement and time and understand the spatial characteristics of this landscape.
Through a weekend trip to the glacier of Morteratsch we will investigate its topology, depth and surface. You will learn to take pictures with an analog middle-format photo camera and work on the spatial perception through photography by looking at the structure of ice in the vast landscape of Morteratsch. How is light and its reflection influencing the perception of space and body and how can the visual impression change by the point of view? What are the possibilities of spatial composition with photography on the subject of a large structure in the landscape? We will follow the idea of communicating space from the moment we take the picture until the arrangement of the developed prints.
Back on campus, you will develop your pictures in the laboratory, arrange them in space and edit sound recordings in our new Audio-Visual-Lab. Finally, you will present your work as an audio-visual experience from your own perception of this landscape.
This course gives you the possibility to do a thesis elective on the subject and learning how work with an professional large-format camera.
Notes: The course will be limited to 16 students. Participation on all dates of the course is mandatory. The Chair will provide some financial support, additional costs (transportation, overnight stay, food and drinks) are asked to be paid by the participants. Basic trekking experience and equipment are required.
THESIS ELECTIVE:
(The elective course is mandatory to do the thesis elective)
Returning to the Morteratsch Glacier in June, you will find the ice melting, moving and collapsing, transforming the place into a threatening environment. In contrast to the elective course, you will face a completely different landscape in the thesis elective, which require new approaches.
In addition to the elective course, you will learn to work with a professional large-format camera that will expand the possibilities of photographic composition.
What can we learn from this slowly moving landscape and the process of land formation in a long term observation? What could define a new perception of the Alps without glaciers? You will formulate your own questions on the topic and develop these during a block seminar in June.
TEACHING TEAM:
Prof. Christophe Girot
Matthias Vollmer
Johannes Rebsamen
Ludwig Berger
—————-
CONTACT:
Matthias Vollmer
—————-
POSTER: Go to the Poster!
COURSE BLOG: See the on going work from students
—————-
PROGRAMME
ELECTIVE COURSE
23.02.2017, 12:45 – 14:30 Introduction to Elective Course (HIL H 40.9)
02.03.2017, 12:45 – 14:30 Introduction to Techniques
04.03.2017, Workshop on site (full day)
05.03.2017, Workshop on site (full day)
09.03.2017, 12:45 – 14:30 Introduction to Film developing (ETH Photolabor)
16.03.2017, 12:45 – 14:30 Film developing (ETH Photolabor)
23.03.2017, NO COURSE (Seminar week)
30.03.2017, 12:45 – 14:30 Film developing (ETH Photolabor)
06.04.2017, 12:45 – 14:30 Mid-Crit, HIL H 40.5 (presenting work in progress)
13.04.2017 12:45 – 14:30 Work on projects, individual meetings
21.04.2017, NO COURSE (Easter Holidays)
27.04.2017, 12:45 – 14:30 Work on projects, individual meetings
04.05.2017, 12:45 – 14:30 Work on projects, individual meetings
11.05.2017, 12:45 – 14:30 Final Crit, HIL H 40.5
THESIS ELECTIVE
June 2017: 2 Weeks with Workshop on site (Elective Course is mandatory)