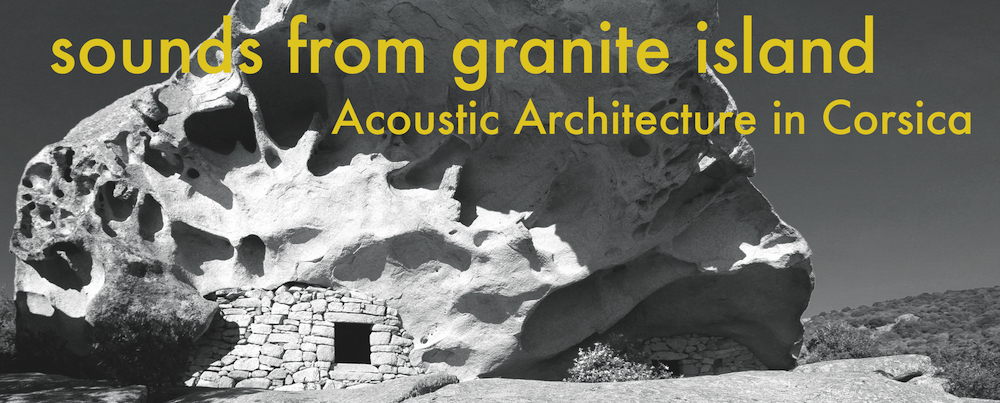 Seminar Week 2017: Corsica
Sounds from Granite Island
Acoustic architecture in Corsica
We will explore the vernacular stone architecture of Corsica with its deeply rooted, vivid relationship to landscape, sound and everyday culture. Through on-site acoustic experiments, soundwalks, and workshops with local experts, we will investigate the sonica and haptic dimensions of a range of building types and construction methods – from the primitive hut to the modernist architecture-sculpture objects, from the medieval citadel to the contemporary urban structure of Bastia. By circumnavigating the island, we will test how architectural texture affects resonance and how sound can be used to create social spaces in Corsica's diverse landscapes.
ACTIVITIES & WORKSHOPS (preliminary):
– Soundwalks
– Sound recording and experimental playback with speakers on site
– Collecting material samples and developing a texture palette
– Workshop with a local mason
– Polyphonic singing workshops in indoor/outdoor spaces (with Jean-Jacques Adreani)
– Presentation of traditional Corsican instruments (with Christian Andreani)
– Meetings with Corsican architects, musicians, historians and geologists
– Hiking ancient shepherd paths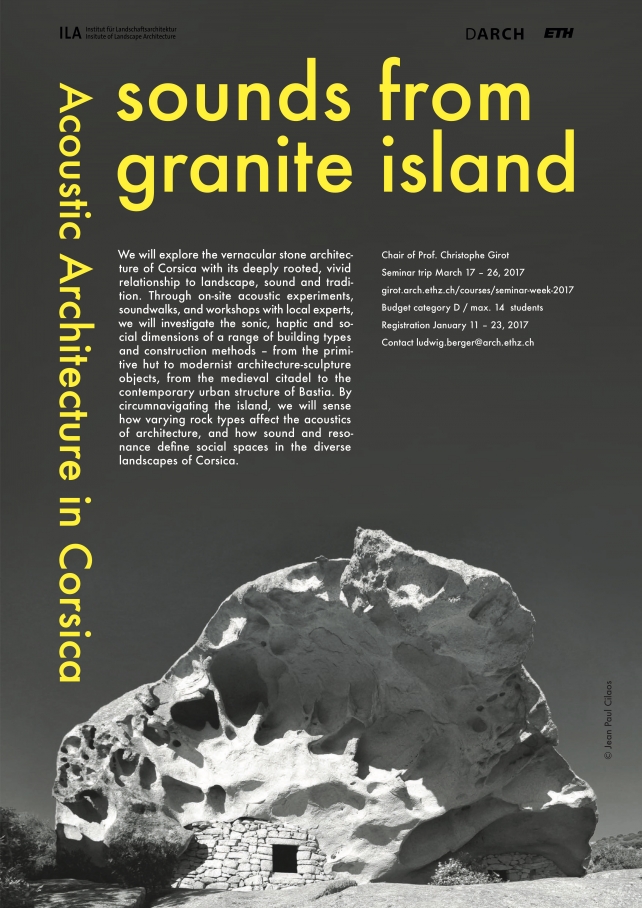 TEACHING TEAM
Prof. Christophe Girot
Ludwig Berger
Lara Mehling
—————-
CONTACT
Budget Category D
Max. 14 Students
—————-
PROGRAMME (preliminary)
Introduction: 9.3.2017, 17.00-19:00h, HIL H 40.5 (AudioVisual Lab)
17.3. (afternoon): Departure from Zurich (by bus, transfer to Corsica in ferry).
Base: Bastia (North)
18.3. Arrival in Bastia, Introductions
19.3. City of Bastia, Cap Corse (coastal landscape and villages)
20.3. Mariana, Murato, Ghisonaccia (Brutalist vacation houses by Roland Simounet)
Base: Bonifacio (South)
21.3: City of Bonifacio, Cavallo (Architecture-sculpture by Jacques Couëlle)
22.3: City of Sartène, Orii (troglodyte houses), Bitalza (shepherd huts)
23.3: Sauria (megalithic site) & City of Ajaccio
Base: Calvi (West)
24.3: City of Calvi, Balagne (labyrinthic villages), Hotel Nord Sud (by André Lurçat)
25.3: Citadel city of Corte, deep gorges of Scala di Santa Regina
26.3: Departure (morning)