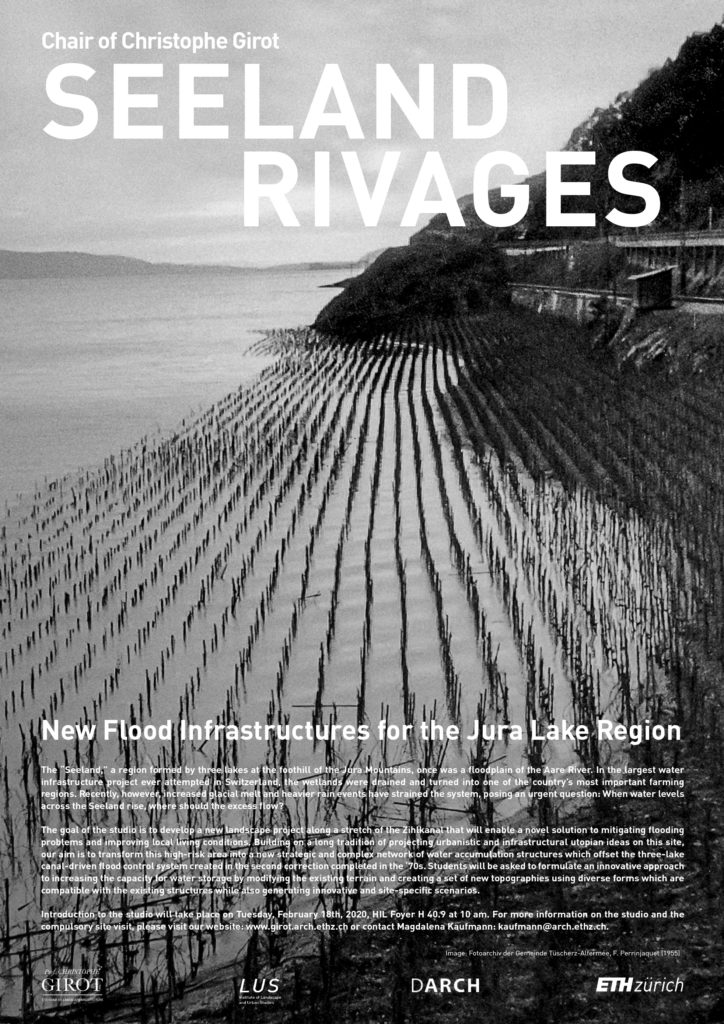 INTRODUCTION
Introduction to the studio will take place on Tuesday, February 18th, 2020, HIL Foyer H 40.9 at 10 am.
COMPULSORY SITE VISIT
Saturday, 22. February 2020 –  Sunday, 23. February 2020
Estimated Cost: 180CHF
ASSISTANTS
Magdalena Kaufmann, Lara Mehling, Benedikt Kowalewski, Julian Fischbacher
CONTACT
Magdalena Kaufmann, Research Assistant
New flood infrastructures for the Jura lake region
Three lakes at the foothill of the Jura Mountains form a region called "Seeland." The landscape was carved by the retreat of the Rhone glacier about 15,000 years ago and inundated by the Aare River, which enters the plateau at Aarberg and once created vast wetlands connecting the three lakes. To make this land arable and resistant to frequent flooding, the largest wetland drainage operation ever attempted in Switzerland was undertaken.While the first water correction (1868–1891) failed, the second (1962–1973) saw the construction of four canals connecting the three lakes to generate a buffer zone, capable of absorbing waters of the Aare in the event of any upstream flooding. In this way, the Zihlkanal between Lake Biel and Neuchâtel functions more like an estuary than a river; it can flow in either direction in order to equalize water levels. Recently, however, increased glacial melt and heavier rain events have put additional strain on the system, initiatingdiscussions about a third correction:When water levels across Seeland rise, where should the excess flow?
The goal of the FS 2020 studio is to develop a new landscape topology that will enable a novel solution to mitigating flooding problems and improving local living conditions.
In addition, the area between the three lakes has a long history as a site on which visionaries have projected unrealized utopian ideas of urbanization and infrastructure. There is good reason to believe that the high-risk stretch along the Zihlkanal could be transformed into a new strategic and complex network of water accumulation structures whichoffset the three-lake canal-driven flood control system created in the second correction.
Students will be asked to formulate an innovative approach to increasing the capacity for water storage by modifying the existing terrain and creating a set of new topographies using diverse forms which are compatible with the existing structures while also generating innovative and site-specific scenarios at multiple scales. The landscape design method used will be that of topology that has been developed and refined at the Chair over the past decade. Analog design tools will be combined with digital design tools and fabrication, which will be taught in a series of workshops including 3D and point cloud modelling, visualization techniques, and CNC prototyping to guide students in developing their own landscape design strategies and methods.