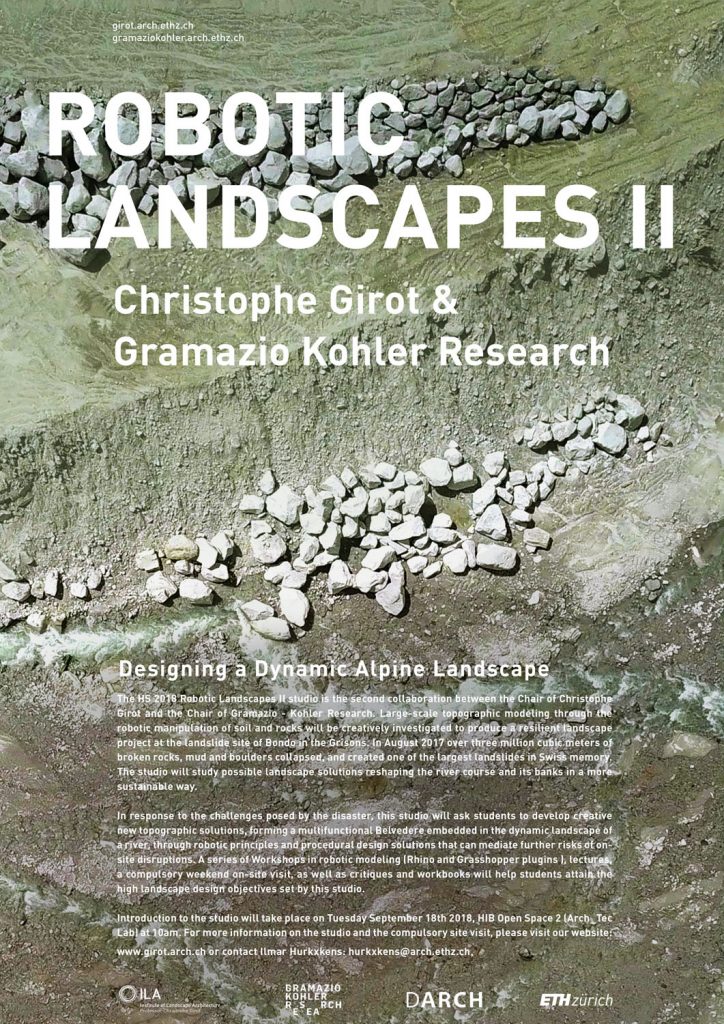 STUDIO
The HS 2018 Robotic Landscapes II studio is the second collaboration between the Chair of Christophe Girot  and the Chair of Gramazio Kohler Research.
ASSISTANTS
Ilmar Hurkxkens, Fujan Fahmi, Benedikt Kowalewski, Jesús Medina, Ammar Mirjan
STUDENTS
Andrea Calzolar, Rongsheng Chen, Anastasia Filatova, Alex Francheville, Roma Guldimann, Roderic Gônter, Jonas Haldemann, Lip Jiang Lee, Matthew Lee, Elizabeth Levy, Sebastian Meier, Kelly Meng, Sam Mettraux, Stanislaw Modrzyk, Carlo Molteni, Cilgia Salzgeber, Basil Schôck, Gereon Sievi, Yorika Sunada, Dawit Tadesse , Ayako Yamagishi
FINAL CRITIQUE
ROBOTIC LANDSCAPES I
Results – Design Studio HS2017
SEMINAR 25.09.2018
SITE VISIT
Contact
Designing a Dynamic Alpine Landscape
The HS 2018 Robotic Landscapes II studio is the second collaboration between the Chair of Christophe Girot and the Chair of Gramazio – Kohler Research. It continues to investigate the potential of on-site robotic construction and grading methods in landscape architecture. Large-scale topographic modeling through the robotic manipulation of soil and rocks will be creatively investigated to produce a resilient landscape project at the landslide site of Bondo in the Grisons.
Since 2011, a chain of major tectonic events have deeply affected Val Bondasca since the partial geological collapse of the Piz Cengalo Mountain requiring urgent remedial measures. In August 2017 over three million cubic meters of broken rocks, mud and boulders collapsed, and created one of the largest landslides in Swiss memory. A wall of mud and rocks crashed down on the village of Bondo obstructing the main road, killing people and dividing the village into two now disconnected sites. There still remains 1.5 million cubic meters of landslide rock in an unstable condition still threatening the Bondasca Valley. Heavy rainfall will undoubtedly result in further landslides worsening the precarious situation in Bondo in the coming years. The studio will study possible landscape solutions reshaping the river course and its banks in a more sustainable way.
In response to the challenges posed by the disaster, this studio will ask students to develop creative new topographic solutions using unformed sand, gravel and rock from the landslide through robotic principles and procedural design solutions that can mediate further risks of on-site disruptions. This will be a unique opportunity to re-imagine the making of a landscape project in an alpine setting looking at its potential for reconciliation between natural processes and designed environments. Students will be asked to propose a multifunctional Belvedere embedded in the dynamic landscape of a river, reinventing new forms nature and topographies for Bondo, by applying material from the landslide appropriately to help reconnect both sides of the village that were abruptly separated by the cataclysm.
Based on dynamic landscape modeling principles, the studio will use the facilities of the ETH Landscape Modeling and Visualizing Lab (LVML) and the ITA Arch-Tec-Lab to establish a procedural and iterative design approach. There will be workshops in robotic modeling using sand and gravel, 3D landscape modeling, and 3D prototype printing to help conceive 3D landscape models (using Rhino and Grasshopper plugins). A series of lectures, a compulsory weekend on-site visit, as well as critiques and workbooks will help students attain the high landscape design objectives set by this studio.
Robotic Process by student Elizabeth Levy and Stanislaw Modrzyk.
Section through Bondo, Graubunden from the Robotic Landscapes Design Studio HS 2018, Professor Christophe Girot & Gramazio Kohler Research, students: Andrea Colzolar, Sam Mettraux, Carlo Molteni.
Final exhibition of the students' projects.
Student Basil Schück working at on his Robotic Process. Photo by Jesús Medina | 2018
Student Andrea Calzolar presenting the Project "ALTER EGO" at the Final Critique.