Pamphlet
Pamphlet is the title of an annual publication series that publishes the results from the teaching and research of the Chair of Professor Girot. Pamphlets are written in both German and English to provide a platform for various professionals to raise critical questions in architecture and design.
Its aim is to record findings, make them available to interested readers, and to contribute to the contemporary professional discourse.
View Archive Pamphlet
View gta Publishers
Contact: Lara Mehling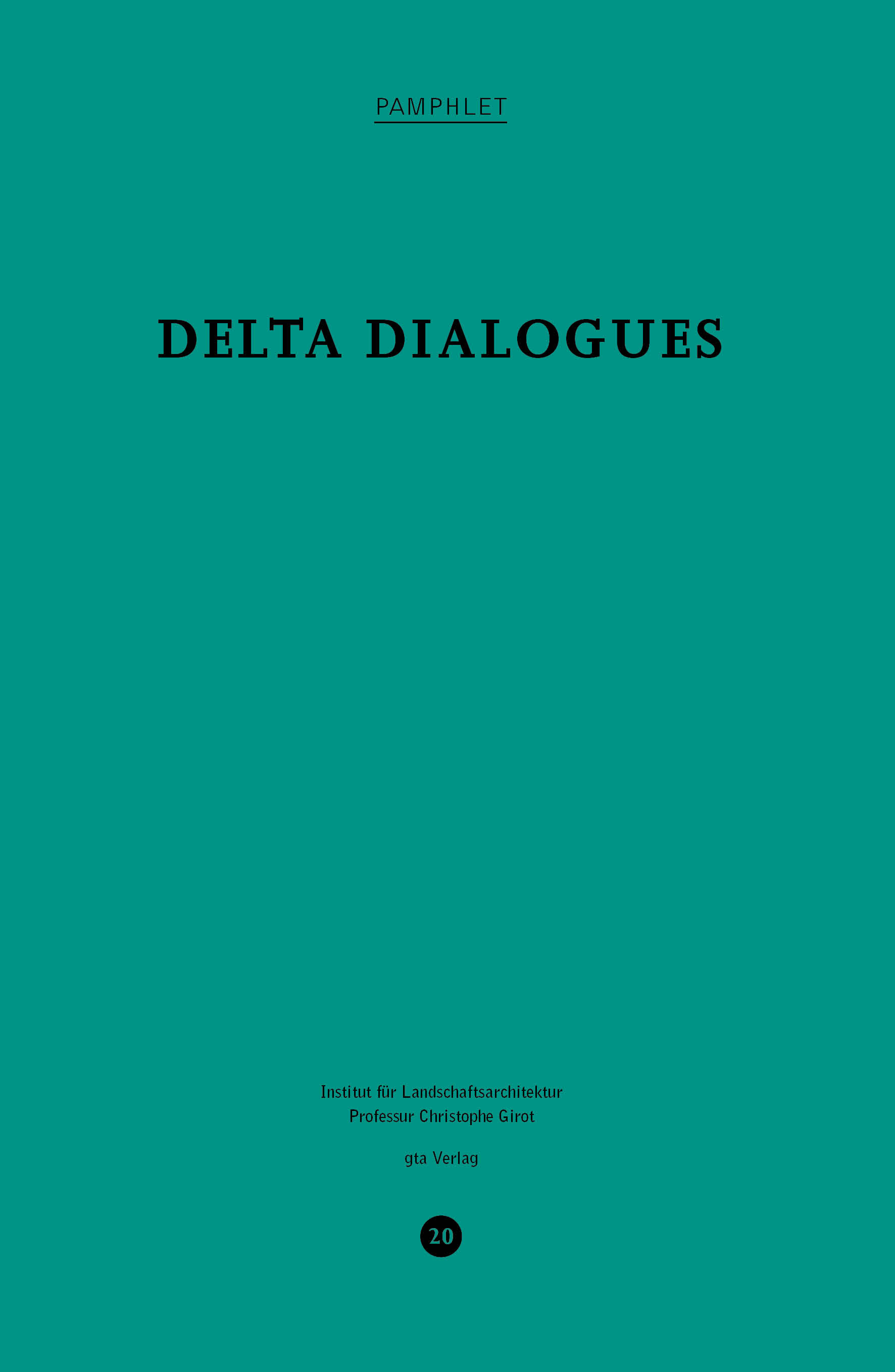 Pamphlet 20
Delta Dialogues
Christophe Girot, Susann Ahn, Isabelle Fehlmann, Lara Mehling (eds.); authors: Susann Ahn, Judith Albert, Ellen Braae, Isabelle Fehlmann, Christophe Girot, Anuradha Mathur, Lara Mehling, Catherine Mosbach, Jane Wolff
Published in 2017
Texts in English
Dimensions: 15 x 23 cm saddle-stitched
86 pages, illustrations in b/w
22.00 CHF / 22.00 Euro
ISBN 978-3-85676-368-8
gta Publishers
Delta landscapes are difficult to define. These murky territories require a careful reading, and the analysis of a site caught between land and water calls for more than a mapping project to understand its complex bounds, so often drawn in fictional lines. This issue of Pamphlet proposes that, as landscape architects, we must thoroughly investigate the medium by innovating our design methods, strategies, processes, and tools to gain a literacy of place, which like the delta itself, embraces multiple threads and a constantly changing course. Delta Dialogues discusses site-reading methods that teach us to read between these rigid lines.
Pamphlet 19
Field Instruments of Design
Christophe Girot, Ilmar Hurkxkens (eds.); authors: Jürg Conzett, Edward Eigen, Christophe Girot, Ilmar Hurkxkens, James Melsom, Jörg Rekittke, Marcus Schmid (Check out the teaser texts from each of the contributors!)
Published in November 2015
Texts in English and German
Dimensions: 15 x 23 cm saddle-stitched
80 pages, illustrations in b/w
22.00 CHF / 20.00 Euro
ISBN 978-3-85676-336-7
gta Publishers
Every given site is specific and successful landscape design must respond to its given features. This means that before proposing a transformation of the site, one needs to understand its form. This issue of Pamphlet argues that it is impossible to design landscapes without a thorough knowledge of field instruments. These instruments measure the geometry of the land, observe and describe physical features, and finally help to conceive the "Topology" of a landscape. Field Instruments of Design assesses what they actually measure, what they reveal, and how they have long influenced the course of landscape architecture.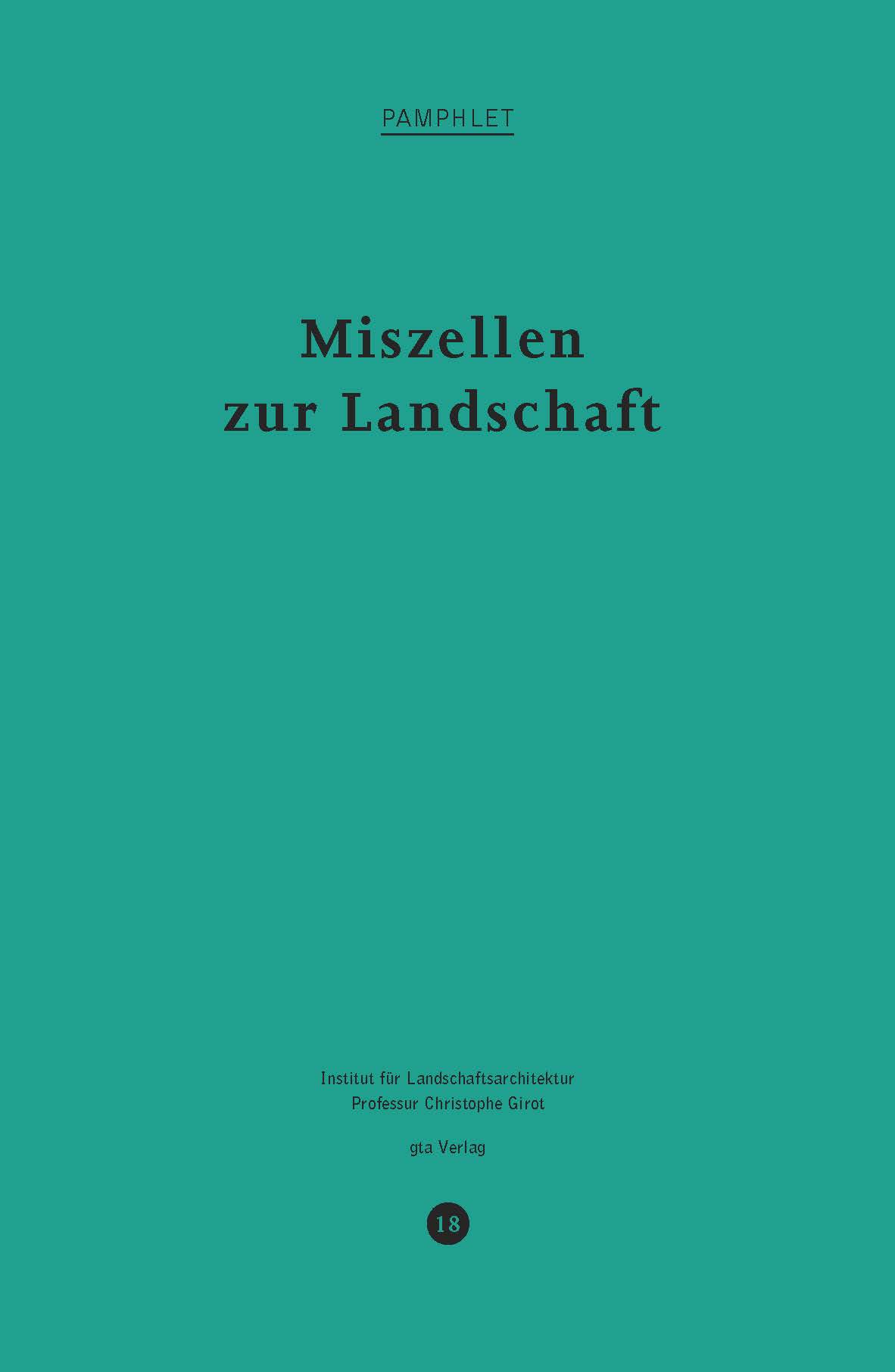 Pamphlet 18
Miszellen zur Landschaft
Christophe Girot, Albert Kirchengast (eds.); authors: Ludwig Fischer,
Catharina Kahane, Cornelia Klinger, Lothar Schäfer, Ullrich Schwarz
Published in October 2013
Texts in German
Dimensions: 15 x 23 cm saddle-stitched
88 pages, illustrations in b/w
22.00 CHF / 20.00 Euro
ISBN 978-3-85676-330-5
gta Publishers
Der Begriff Landschaft hat immer wieder Kontroversen provoziert. Mit den Miszellen zur Landschaft pflegt diese Schriftenreihe den Diskurs um einen starken Leitbegriff: Ludwig Fischer hinterfragt die nicht verstummende Kritik an einer alten Landschaftsauffassung, Lothar Schäfer stellt die Kernthesen seines Bacon-Projektes dar. Ullrich Schwarz geht in seinem Beitrag auf die Suche nach der Natur, während Catharina Kahane sie in Bruegels Kreuztragung als landschaftliche Passionsgeschichte findet. Cornelia Klinger schliesslich kommt der Wiederkehr des Erhabenen in den Bildern der Gegenwart auf die Spur.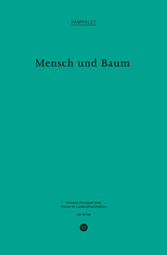 Pamphlet 17
Mensch und Baum
Susanne Hofer, Johannes Rebsamen, Nadine Schütz (concept); authors: Alexander Demandt, Christophe Girot,
Albert Kirchengast, Fred van der Kooij, Tim Krohn, Johannes Rebsamen, Nadine Schütz
Published in June 2013
Texts in German
Dimensions: 15 x 23 cm saddle-stitched
80 pages, illustrations in b/w
22.00 CHF / 20.00 Euro
ISBN 978-3-85676-316-9
gta Publishers
Bäume sind raumbildende Gewächse, charaktervolle Protagonisten des Gartens, der Landschaft, der Strassen unserer Städte. Sie vermitteln zwischen Massstäben und schaffen Orte der Sinnlichkeit; als zweidimensionale Punkte im Planungsvollzug werden sie hingegen zu abstrakten Elementen reduziert. In der Auseinandersetzung mit konkreten 'Baumräumen' über Aug' und Ohr wird durch die Beiträge dieses Pamphlets die Sinn- und Sinnlichkeitsdimension von Bäumen erschlossen. Welchen Beitrag leisten audiovisuelle Medien für die Anerkennung und Gestaltung des 'Erlebnisses Baum'?
Die begleitenden Videos sind online abrufbar: www.landscape-pamphlet.net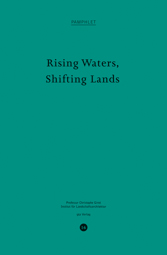 Pamphlet 16
Rising Waters, Shifting Lands 
Frédéric Rossano (concept); authors: Christophe Girot, Jan-Dirk Hoekstra, James Melsom,
Frédéric Rossano, Dirk Sijmons, Kelly Shannon and Bruno De Meulder, Antje Stokman
Published in November 2012
Texts in English
Dimensions: 15 x 23 cm saddle-stitched
80 pages, illustrations in b/w
22.00 CHF / 20.00 Euro
ISBN 978-3-85676-313-8
gta Publishers
Flood protection strategies in terms of absolute protection appear to be unattainable, and a shift is needed from technological intervention alone to specific answers led by design. Water management is evolving from a purely technical domain towards a wider territorial issue embedding cultural, economic, and ecological dimensions. In this context landscape architecture is becoming a key discipline. Pamphlet 16 follows the design studio held by Christophe Girot on the city-island of Dordrecht and includes several contributions framing current challenges of flood defense in a wider territorial and interdisciplinary perspective.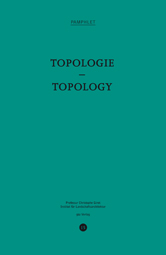 Pamphlet 15
Topologie / Topology
Christophe Girot, Anette Freytag, Albert Kirchengast,
Suzanne Krizenecky, Dunja Richter
Published in September 2012
Texts in German and English
Dimensions: 15 x 23 cm saddle-stitched
48 pages, 10 illustrations in colour
22.00 CHF / 20.00 Euro
ISBN 978-3-85676-300-8
gta Publishers
Traditional design terms like 'beauty' and 'form' are not relevant for landscape architecture anymore. Design tasks seem to have changed fundamentally. What parameters are relevant in the present state of affairs? In this Pamphlet, Christophe Girot's Chair of Landscape Architecture at ETH Zurich takes a position on 'topology'. Landscape architecture should be strength­ened as an integrative discipline with a deeply anchored tradition in the forming and perpetuation of nature.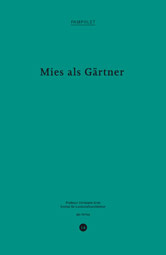 Pamphlet 14
Mies als Gärtner
Christophe Girot, Albert Kirchengast (eds.); authors: Inge Andritz, Christophe Girot, Richard Ingersoll, Albert Kirchengast, Jörn Köppler, Johannes Stoffler
Published in October 2011
Texts in German or English
Format: 15 x 23 cm saddle-stitched
80 pages, illustrations in b/w
22.00 CHF / 20.00 Euro
ISBN 978-3-85676-293-3
gta Publishers
Mies als Neoklassizist, Mies als Avantgardist, Mies als Protagonist der architektonischen Moderne – aber «Mies als Gärtner»? Gewiss spielt der Aussenraum im Werk von Ludwig Mies van der Rohe eine entscheidende Rolle; ob bei intimen Hofhäusern oder den weiten Panoramen seiner collagierten Räume auf Papier. Aber welchen Stellenwert nehmen Natur und Landschaft, Pflanze und Klima in seiner Architektur tatsächlich ein? In welcher Beziehung stehen etwa die frühen Berliner Gärten zu seinem möglicherweise «idealistischen Architekturkonzept»; wie geht er mit dem Archetyp «Hortus conclusus» in seinen Hofhauskonzepten um, und haben diese Erfahrungen mit gestalteter Natur Auswirkungen auf die städtebaulichen Projekte in Amerika? Schliesslich stellt sich die Frage nach der forcierten Naturbeziehung des modernen, ästhetischen Subjekts im Farnsworth House. Dies erlaubt auch den Vergleich mit dem Garten des Kaufmann House seines Zeitgenossen Richard Neutra – eines ebenfalls in die USA emigrierten Europäers, mit allerdings dezidiert gärtnerischer Ausbildung. In der vorliegenden Publikation gehen Autoren diverser Fachbereiche diesen Fragestellungen nach und beziehen sich in ihren Textbeiträgen auf verschiedene Bauwerke Mies van der Rohes.