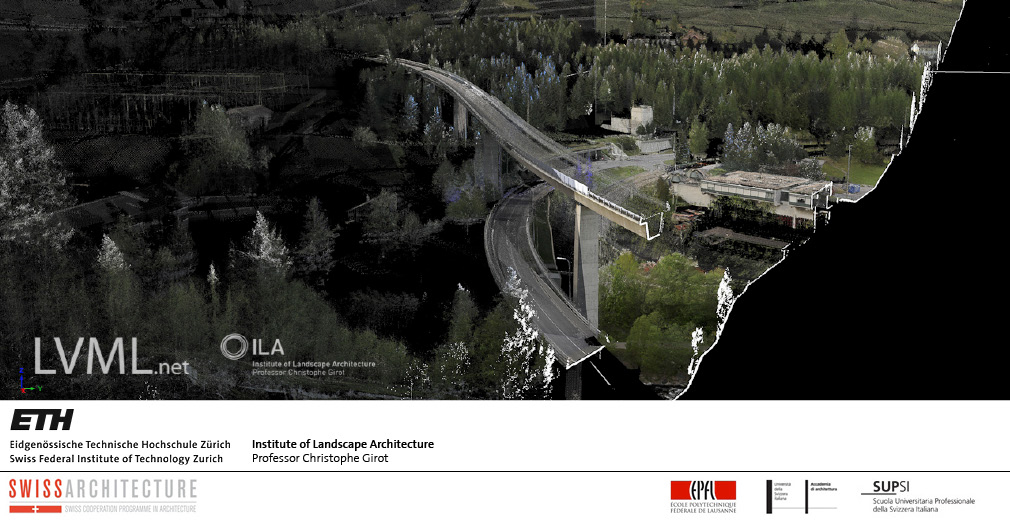 Gotthard Landscape Infrastructure
Exploring Landscape Myths and Technology – Encyclopaedia of infrastructure buildings of the Gotthard region and their implications on landscape changes since 1850
SYNOPSIS
The LVML at the Chair of Professor Girot of the ETH has developed an experimental alpine model based on point cloud technology. Multiple techniques in digital surveying are used to show the Gotthard Pass from Erstefeld to Bodio three dimensionally in an unprecedented way. The resulting split sections and "impossible views" created give rise to an entirely new myth of the mountain and our ethereal relationship towards it.
OUTPUT + PUBLICATION
Infrastructure buildings at the Gotthard

In the Landscape Visualization & Modeling Lab LVML a team of the Institute for Landscape Architecture is working on visualizations and animations of infrastructure buildings in the Gotthard region between Erstfeld and Bodio.
The visualizations and animations of the des LVML research team will accompany the team's contributions to the book "Landscape, Myths and Technology", to be published in 2013.

PARTNERS
Interdisciplinary research project under the tutelage (Swiss Cooperation Programm in Architecture SCPA):
Chairs of prof. Christophe Girot, prof. Ákos Moravánszky and prof. Gion Caminada of ETH Zurich
Università della Svizzera Italiana acting on the initiative of prof. Marianne Burkhalter and prof. Christian Sumi (AAM).
RESEARCH TEAM ETH ZURICH
Prof. Christophe Girot
Pascal Werner (Project Leader)
Ilmar Hurkxkens 
James Melsom
In collaboration with:
Alexandre Kapellos, Tom Klein (LVML)
ARTESCAN
Contact: Pascal Werner