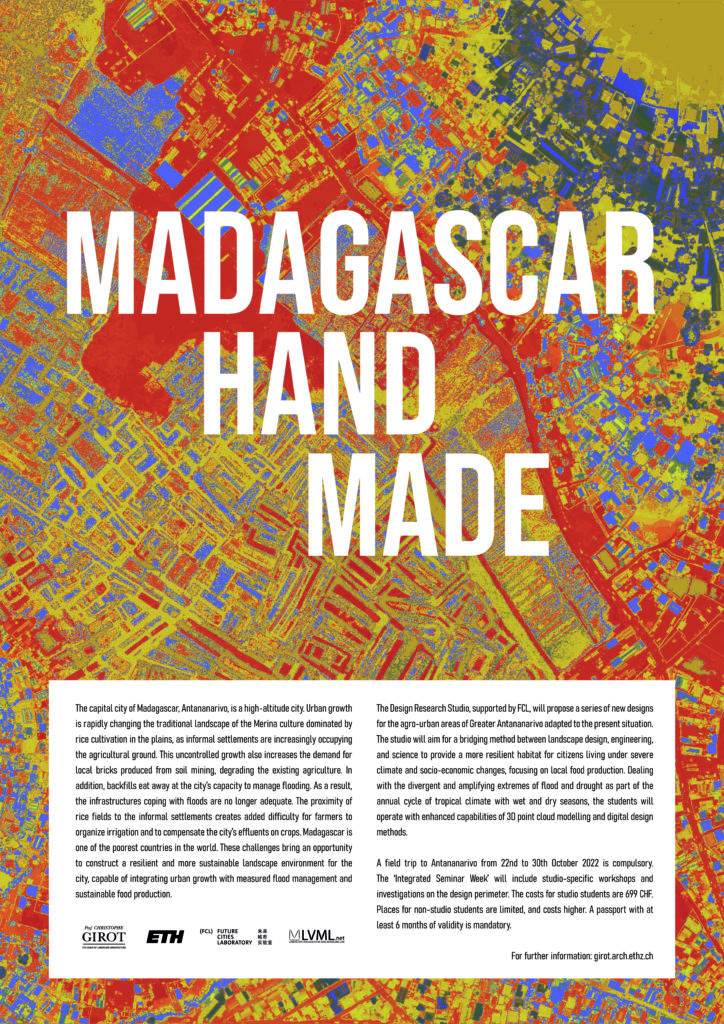 STUDIO
The MADAGASCAR HAND MADE Studio in the Fall Semester 2022 will investigate the innovative designs for flood relief in Antananarivo. It will address the peri-urban context of the city that is subject to severe seasonal flooding. The site-specific approach includes modeling of resilient landscape infrastructures to enhance the safety of neighborhoods located on the banks of the Ikopa and Sisaony rivers.
TEACHING TEAM
Prof. Christophe Girot, Dr. Philipp Urech, Julian Fischbacher, Luisa Overath
COLLABORATION
GUEST LECTURERS
tba
INTEGRATED SEMINAR WEEK
Field Trip to Antananarivo & Workshop on Site
22.–30. October 2022, 699 CHF per Student
INTRODUCTION
Introduction to the studio will take place on Tuesday, September 20th, 2022, Design Studio HIL C 40.9 at 10 am.
CONTACT
Design Research Studio (DRS) for resilient landscapes in flood prone urbanized areas of Antananarivo
The goal of this Design Research Studio is to develop design solutions for the flood prone areas of Greater Antananarivo, Madagascar, implementing a resilient landscape infrastructure. Students will learn digital modelling techniques through topological analysis and design. This will enable them to imagine and design precise flood- and food-resilient landscape systems in the urban-agricultural context of Antananarivo. The digital models will be assessed for their performance and feasibility through pluvial simulation models and ecosystem services assessment. Through the use of precise modeling techniques based on laser-scanned data, students will learn to move iteratively towards a final landscape design proposal that will compound topography, infrastructure and vegetation. The studio is part of an ETH Future Cities Laboratory collaboration with researchers and designers from local universities, that will strengthen our knowledge about the broader socio-ecological context of Madagascar. The studio includes a compulsory site visit to Antananarivo for ETH students in the Autumn of 2022.
The studio will propose a series of new designs for an agro-urban flood-food landscape adapted to the present situation. The intention would be to develop designs that integrate flood and irrigation management while keeping key benefits that city dwellers get from their local ecosystem. This will be achieved through the enhanced the capabilities of 3D point cloud modelling and design. The design of significant landscape changes in Antananarivo draws from a combination of design and analysis methods to find adaptive solutions.
These design tools supported by scientific feedback will initiate an iterative process between capturing, analyzing and visualizing possible futures. The designed landscape scenarios developed by the students will be assessed in their performance and feasibility according to pluvial model simulation and the ecosystem services they provide. New landscape designs will be integrated to flood- and food-resilient scenarios urgently sought by Malagasy society. The studio philosophy is to build on the strengths of the current socio-ecological interactions that exist locally. The studio will aim at bridging design, engineering and science, by promoting novel ways to transform urban landscapes in the context of Antananarivo, providing more resilient habitat for citizens living under severe climate and socio-economic changes with a particular focus on local food production.
Work in teams of 2 is advised.
A field trip to Antananarivo in the Seminar Week Fall 2022 is compulsory.
Language of instruction is English.
Number of participants will be limited to 15 students.
The studio will include "Integrierte Disziplin Planung" (063-1402-13), 3 ETCS credits
Integrated Seminar Week 'Madagascar Hand Made'
Our journey will take us to the Central Plateau, the Highlands of Madagascar. Together with local experts and students, we will study the flood-prone agricultural landscapes around Antananarivo and learn how to read and design the terrain in various analog and digital workshops.
Would you like to join? Some hints …
The field trip to Antananarivo is integrated into the Design Research Studio 'Madagascar Hand Made'. As part of the studio, it is compulsory to participate.
Itinerary: 22.–30. October 2022
Budget 699 CHF includes flights, accommodation, travel on-site, and reader.
Not included: VISA (mandatory) 30 CHF, VACCINATION (optional)
A PASSPORT with at least six months of validity is mandatory to enter Madagascar!!!
Individual TRAVEL INSURANCE per student are HIGHLY recommended
Further Websites:
Visa: Online Application https://www.ivisa.com/madagascar
Vaccination: Recommendations for Madagascar: www.healthytravel.ch (After enrollment, you will have the possibility to check your vaccination status collectively (with us) at the travel clinic in Zurich.)
Pictures by Philipp Urech 
Digital Design Tools: Point Cloud Technology, Simulations and Digital Modeling