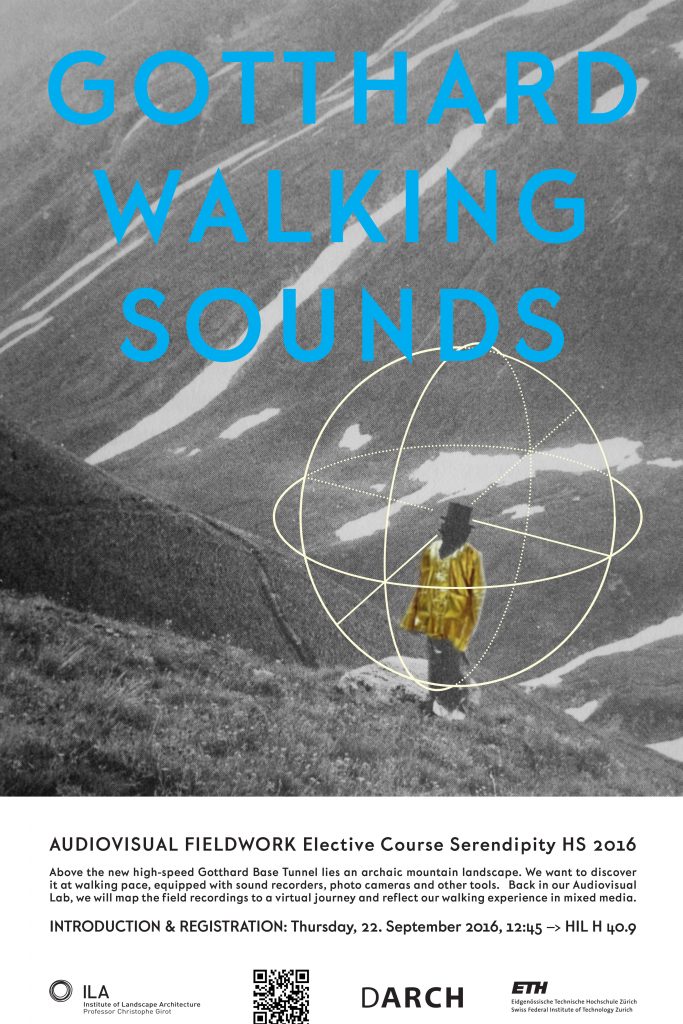 ABSTRACT
This elective course and thesis elective in the autumn semester 2016 investigated the Gotthard landscapes above the new base tunnel NEAT.
TEACHING TEAM
Prof. Christophe Girot, Ludwig Berger, Johannes Rebsamen, Matthias Vollmer
STUDENTS
Cécile Baumann,  Geraldine Burger, Dimitri Häflliger, Laura Hunziker, Benjamin Müller, Giulia Remonda, Max Spett
CONTACT
Investigating the Gotthard landscapes above the new base tunnel NEAT
Above the new high-speed Gotthard Base Tunnel lies a fascinating mountain landscape steeped in myths and stories. On an alpine walking tour, we will trace the tunnel's course and mark points a hundred meters higher: alpine pastures, rugged mountains, deep forests, clear lakes, weekend cottages.
We will discover the audiovisual qualities of the mountain landscape, map our overground "tunnel journey" with sound recorders and photo cameras, and intervene in the environment at vertical points of intersection. How is our perception on the surface shaped through the awareness of the tunnel below? How do we experience the vast and lonesome mountain area at a walking pace instead of rushing through it in a secure enclosure? Using techniques from sound art, land art and "strollology", we want to examine the Gotthard, understood as both archaic nature and cultivated alpine landscape, a hightech transit area and a pre-modern refuge, the "center of Europe" and the periphery of Switzerland.
Back in our AudioVisual Lab, we will work with audio editing tools, spatial sound design and photographic processing in order to explore new ways of perceiving and portraying landscape. Through audiovisual journeys and mixed media installations we will compose a collective multisensory map of the Gotthard.
The course will be limited to 16 students. Participation on all dates of the course is mandatory. The costs for the excursion (traveling, overnight stay, food and drinks) are asked to be paid by the participants. Basic trekking experience and equipment are required.
THESIS ELECTIVE:
Returning to Gotthard, you will choose one intersection point to compose a site-specific sound installation, land art intervention or media art work. As an additional tool, you can work with 3d laser scanners to create audiovisual animations from point cloud models.
Using different media and reflecting todays perception of Gotthard, you can formulate your own questions and develop these in a free form.
The thesis elective lasts at least two weeks with workshop on site (Elective Course is mandatory).
Audio-visual impressions from the site
I: Erstfeld – Bristen (Benjamin Müller & Giulia Remonda)
II: Bristen – Sedrun (Laura Hunziker and Cécile Baumann)
III: Lukmanierpass – Faido (Geraldine Burger & Dimitri Häfliger)
IV: Faido – Bodio (Max Spett)