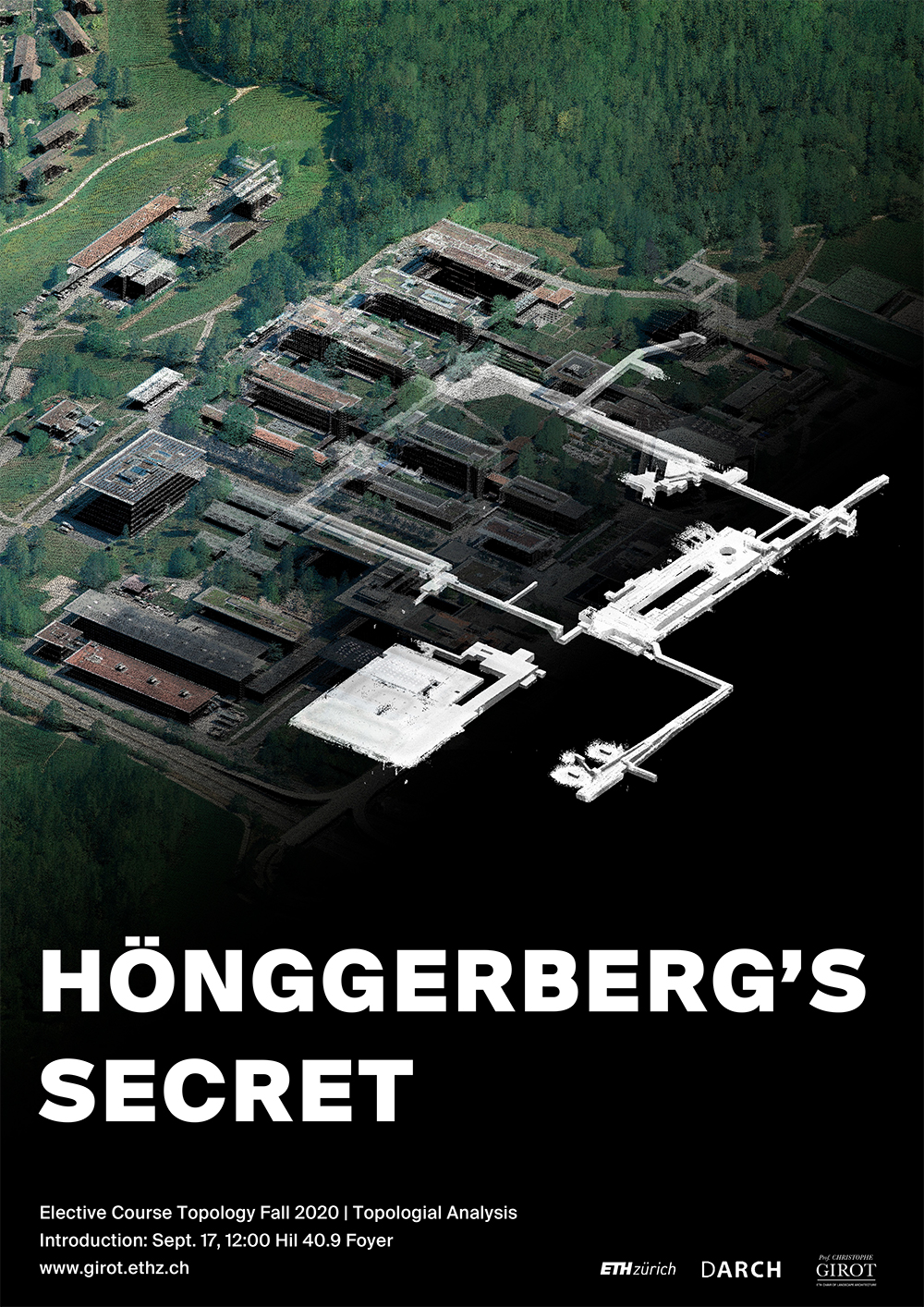 The underground is in more than one way an infrastructure. Below the ground different facilities ensure the connectivity of todays urban life. An «above-ground» in the form as it's known would not be possible without the hidden connectors, joints and services. The topological approach using point cloud modeling reveals the seemingly invisible networks and brings them in relation to the perceivable urban spaces above-ground. 
TOOLS: Laserscanning / Sound recorders and contact microphones
STUDENTS: Morris Enzmann, Maxime Evéquoz, Sébastien Fischer, Andrea Giger, Pan Hu, Daniel Kunz, Xuehan Li, Elyas Lunardi, Luca Meister, Leo Müller, Markus Peintner, Gilles Scapin, Brandon Schwab, Noah Schweizer, Bing Yang, Joel Zimmerli, Rémi Jourdan
TEACHING TEAM: Prof. Christophe Girot, Ludwig Berger, Dennis Häusler, Magda Kaufmann, Johannes Rebsamen, Matthias Vollmer
CONTACT: Dennis Häusler
In the case of the ETH Campus Hönggerberg the Underground was to a large extent planned during the first stages of construction and has been extended ever since. Besides the underground spaces each building contains there are many systems and networks which interconnect the buildings in the underground. Media like heating, cooling, gas, hydrogen and power supply are managed centrally and distributed through the underground to the individual buildings.
These infrastructure not only build a world of their own, but also shape the spaces above ground, whether it's the layout of streets and squares or the shape of water basins and parks, the visible elements on the surface are closely related to their supporting infrastructure below the ground.

During the course, the students will work in groups of two with site specific three-dimensional point cloud models and sound recordings. After a two-day workshop on site the collected recordings will be assembled and built into an interactive application in the «Landscape Visualisation and Modelling Lab». All software required is open source and can also be installed on private laptops, hence worked from home if necessary.
Full length recording of the student works: 
Making Off: Fieldwork and Laserscanning
Making Off: Computer Lab and Remote Teaching