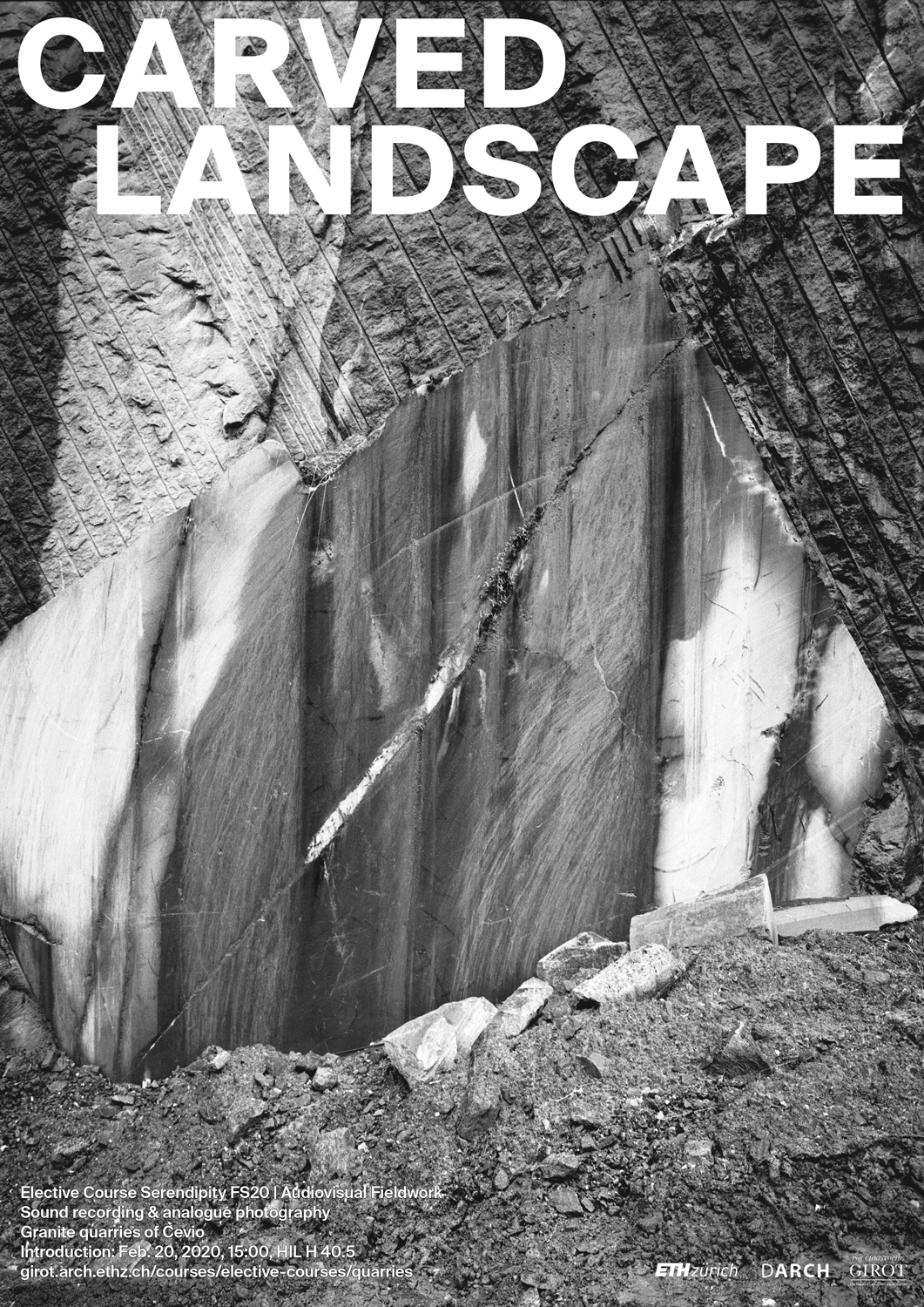 We will investigate a gneiss quarry in Cevio, where stone has been mined for building construction for centuries and has become an integral part of the alpine landscape.Through analogue photography and experimental sound recording on site, we will refine our perception and find new ways of representing landscapes.
TOOLS: Analoge Photography / Sound recorders and contact microphones
TEACHING TEAM: Prof. Christophe Girot, Ludwig Berger, Laura Endres, Dennis Häusler, Johannes Rebsamen, Matthias Vollmer
CONTACT: Dennis Häusler
SCHEDULE:
Feb 20 Introduction & Registration
Feb 27 Technical introduction
Feb 29-01 Workshop weekend
Mar 05 Photographic development and sound editing introduction
Mar 12 Early Mid Crit (presentation of material)
Mar 19 – no course – (seminar week)
Mar 26 Photographic development and sound editing
Apr 02 Photographic development and sound editing
Apr 09 Late Mid Crit (presentation of material)
Apr 16 – no course – (easter break)
Apr 23 Individual work & table crits
Apr 30 Individual work & table crits
Mai 07 Final Crit
The alpine landscape has become a hinterland of its adjacent urban centers. Stone among other resources is extracted from the mountainous terrains and channeled into the thriving cities of central Europe. Ever since local villages were built local stone was used as a building material and was carved from endless quarries, reshaping the landscape.  Cities depend on their hinterland for supply of all sorts, like recreational tourism, water sources and hydropower plants, agricultural production or construction material, the landscape in return is being reshaped by these distant interests with increasing speed.
After investigating the systems of water-collection and the allocated power production during previous semesters, we will now be shifting our focus on the extraction of stone and rock – the dismantling of the mountains themselves. The mining of rock and stone formations which have been formed over millions of years – undergoing geological transformations of unimaginable scale. 
With a group of students we will investigate a gneiss quarry in Cevio, located in the famous Val Maggia. Amongst many other quarries in the valley, in this particular one locals have been mining stone as a construction material for centuries. This has not only influenced the local architecture, which became famous for its stone-cladded roofs – only possible due to the specific properties of the local stone – but also made the valley famous far beyond its borders.
In the 1920'ies Zurich's Train-station Enge was built using the rock from this quarry in Cevio. Thirty years later the square in front of the station was named «Tessinerplatz» the canton where Cevio is located, making the urban ensemble an homage to the origins of its building material.
The process of building is always also a process of mining – elsewhere. Every built volume requires a negative space. In this void and it's surrounding landscape we will search for gaps, joints, resistance, reflections and connections between landscape and the mining structure, production and protection, absorption and reflection. We want to understand the spatial characteristics drawn by light and sound and create a new perception of this place. What spatial qualities can we find in this remaining carved landscape? And how can we present these discoveries in an audiovisual work?
We will approach the place with sound recorders and analogue medium format cameras. Spending time on site will give us the possibility to emerge into the system of power and observe it in different scales. Back on campus Students will work on an audio visual composition, created in the AV-Lab and the PhotoLab.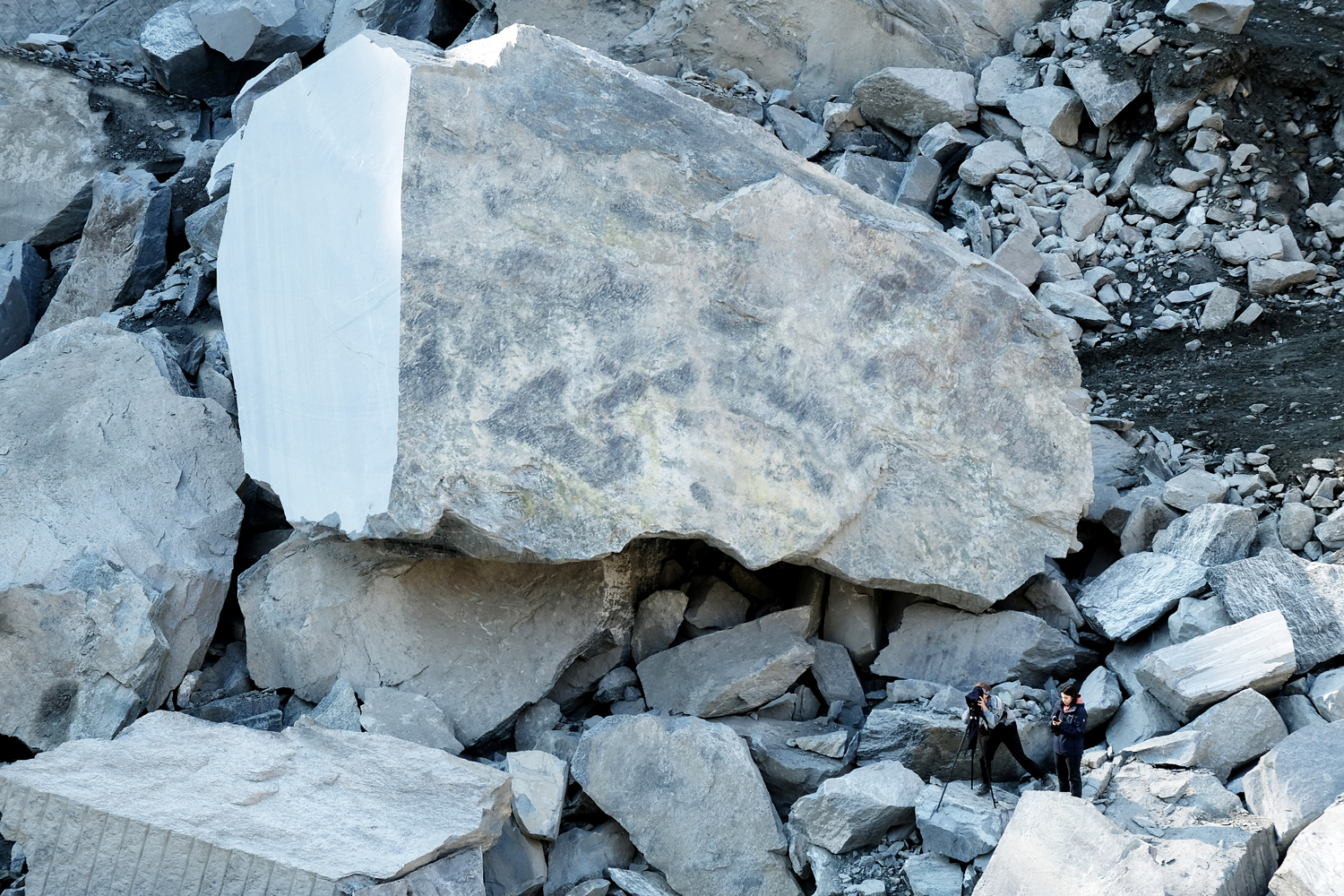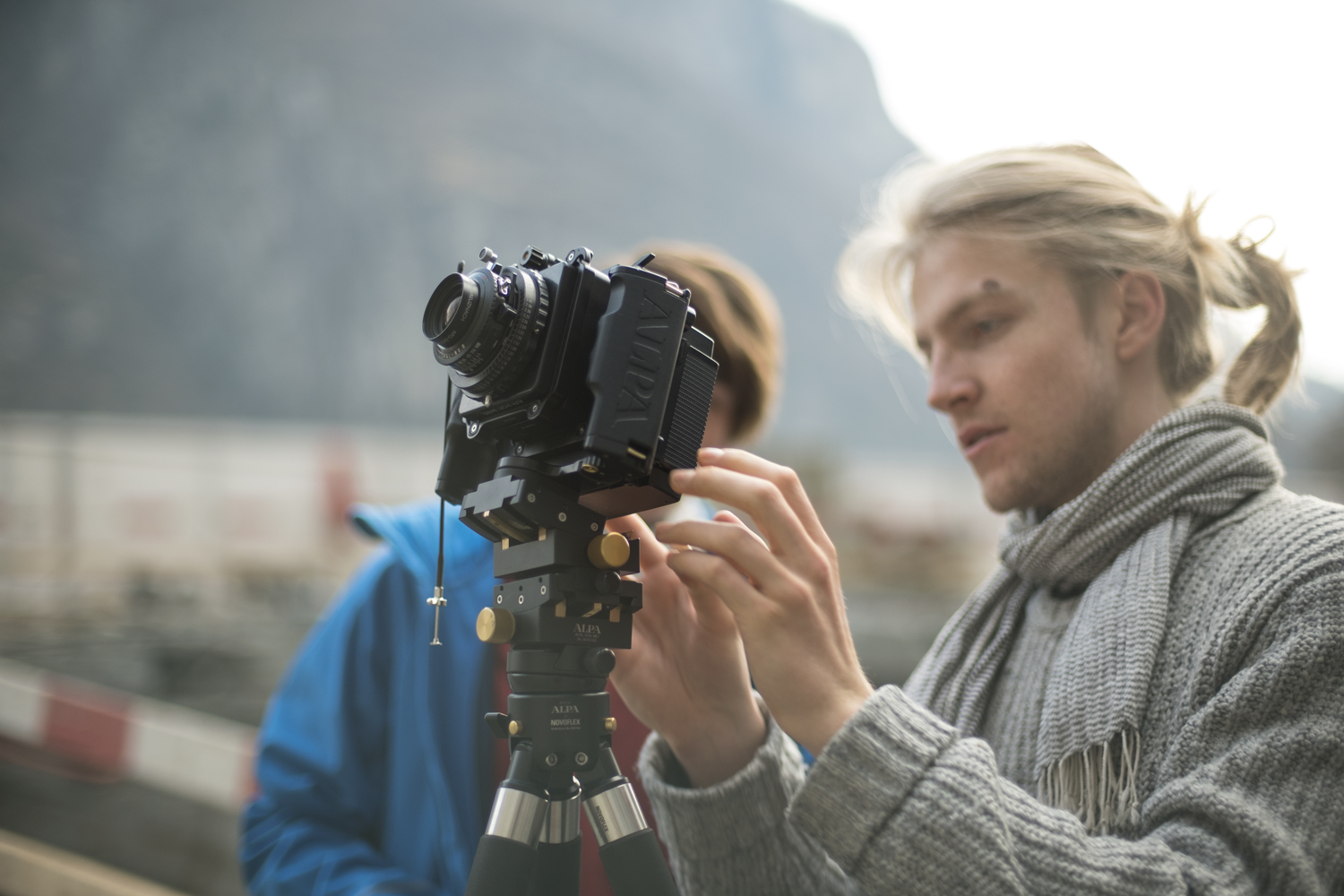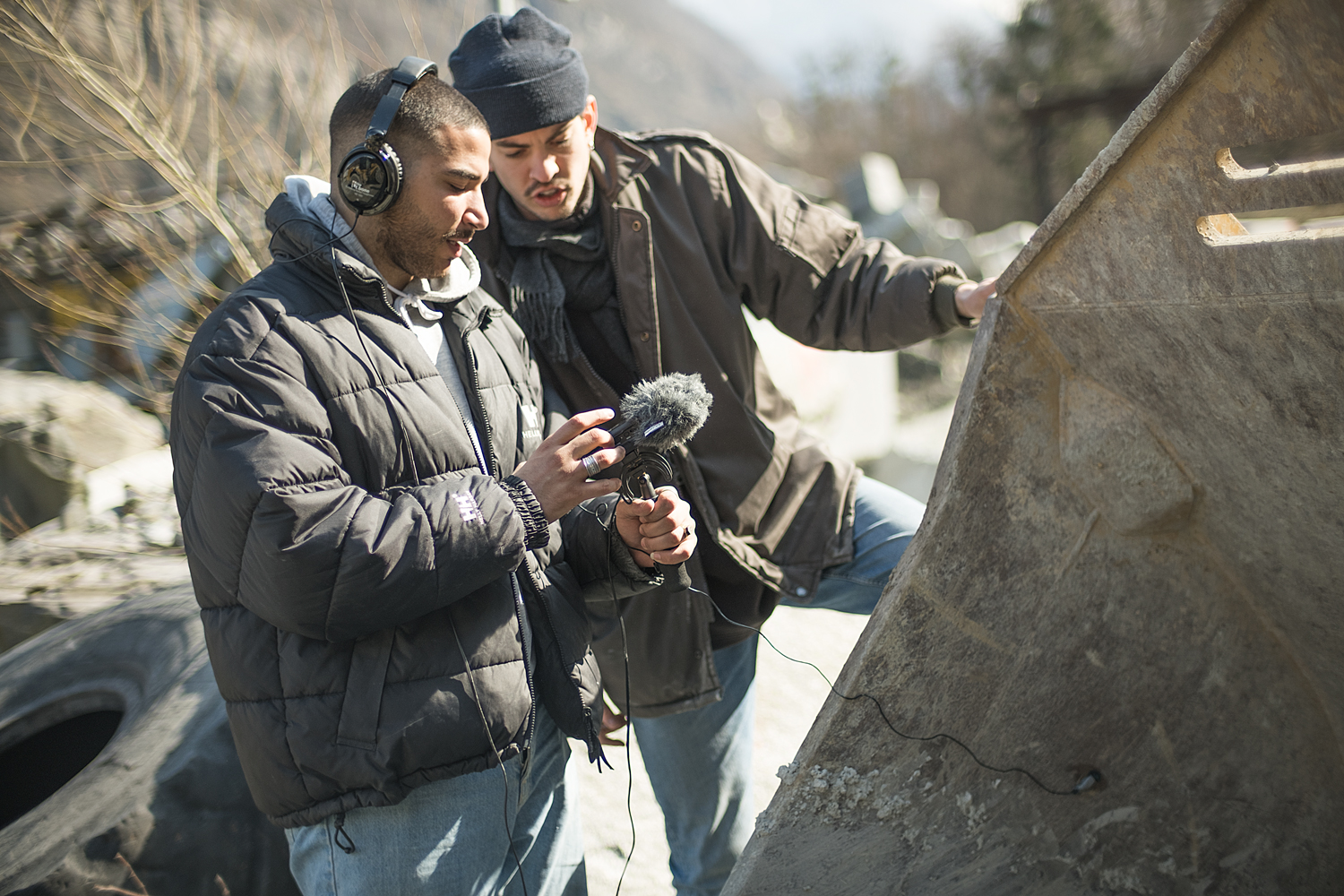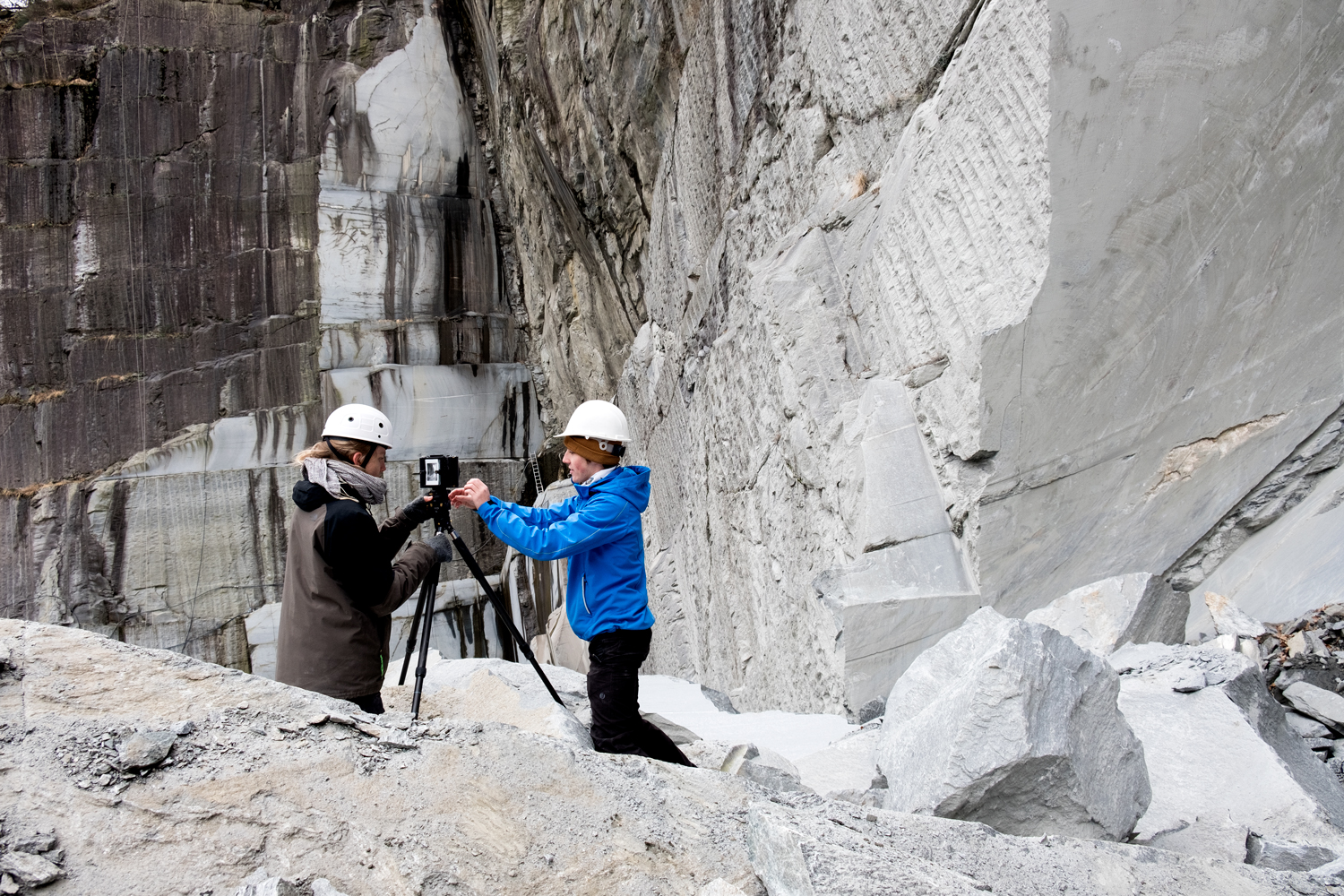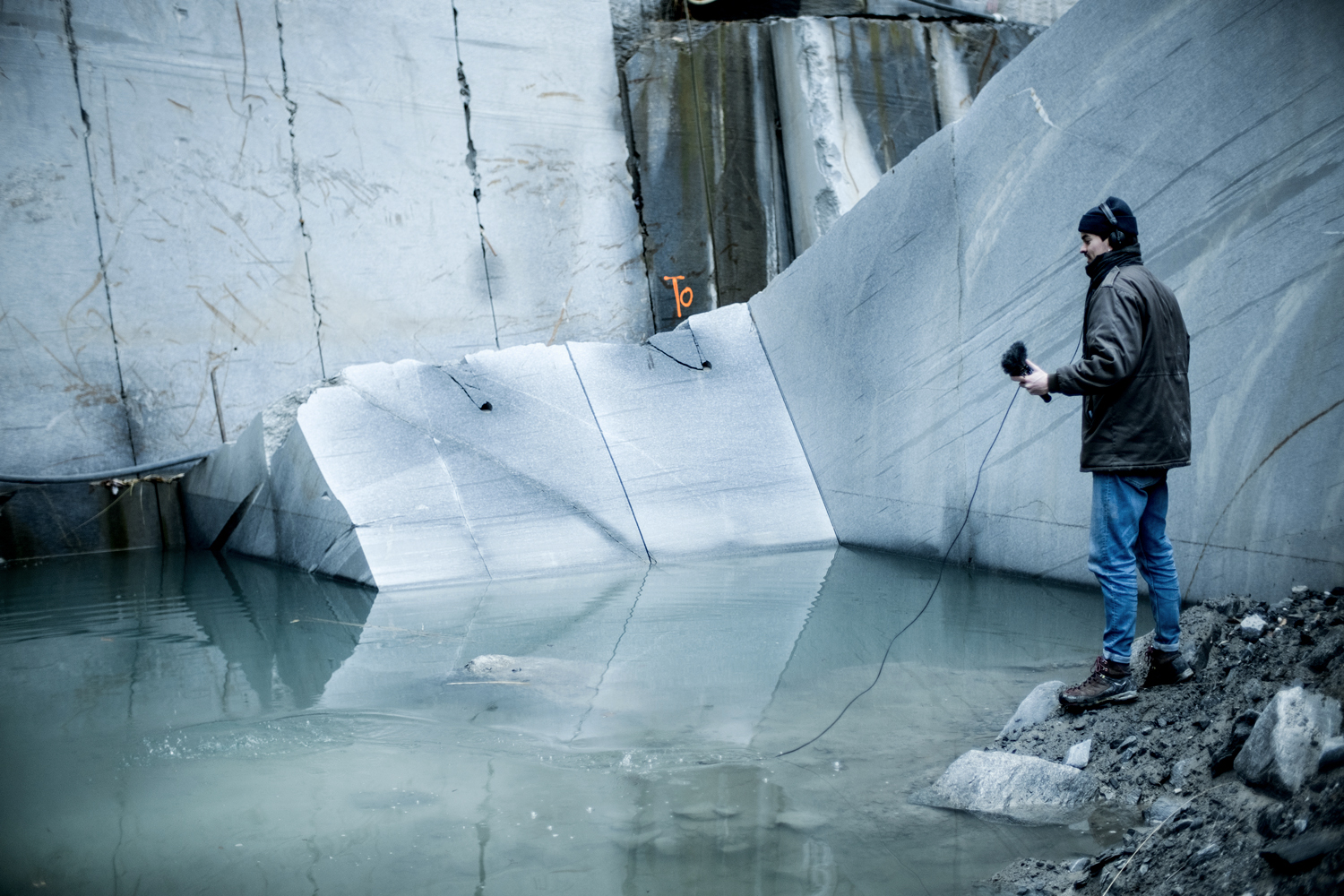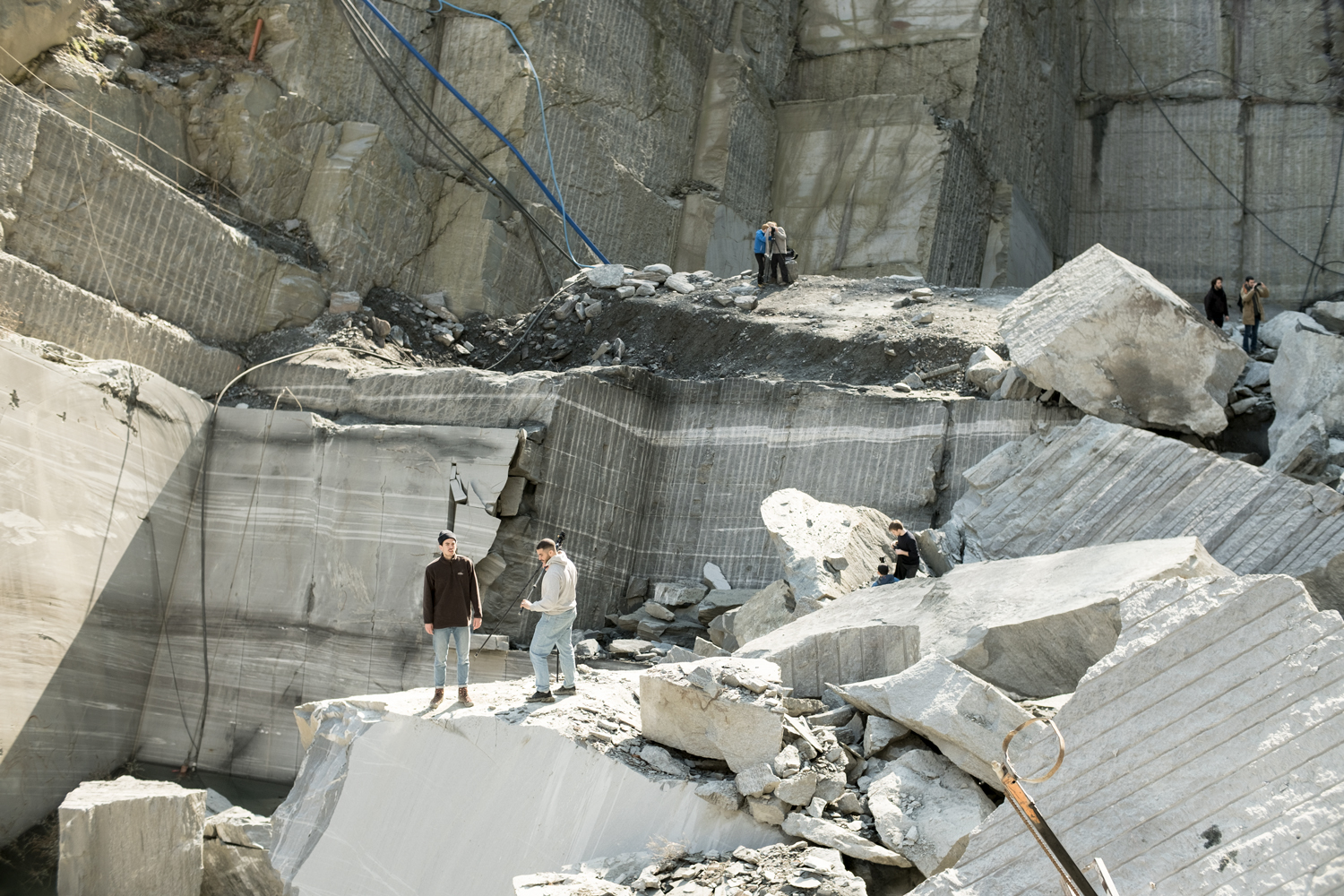 Field work at the Bettazza Graniti quarry.