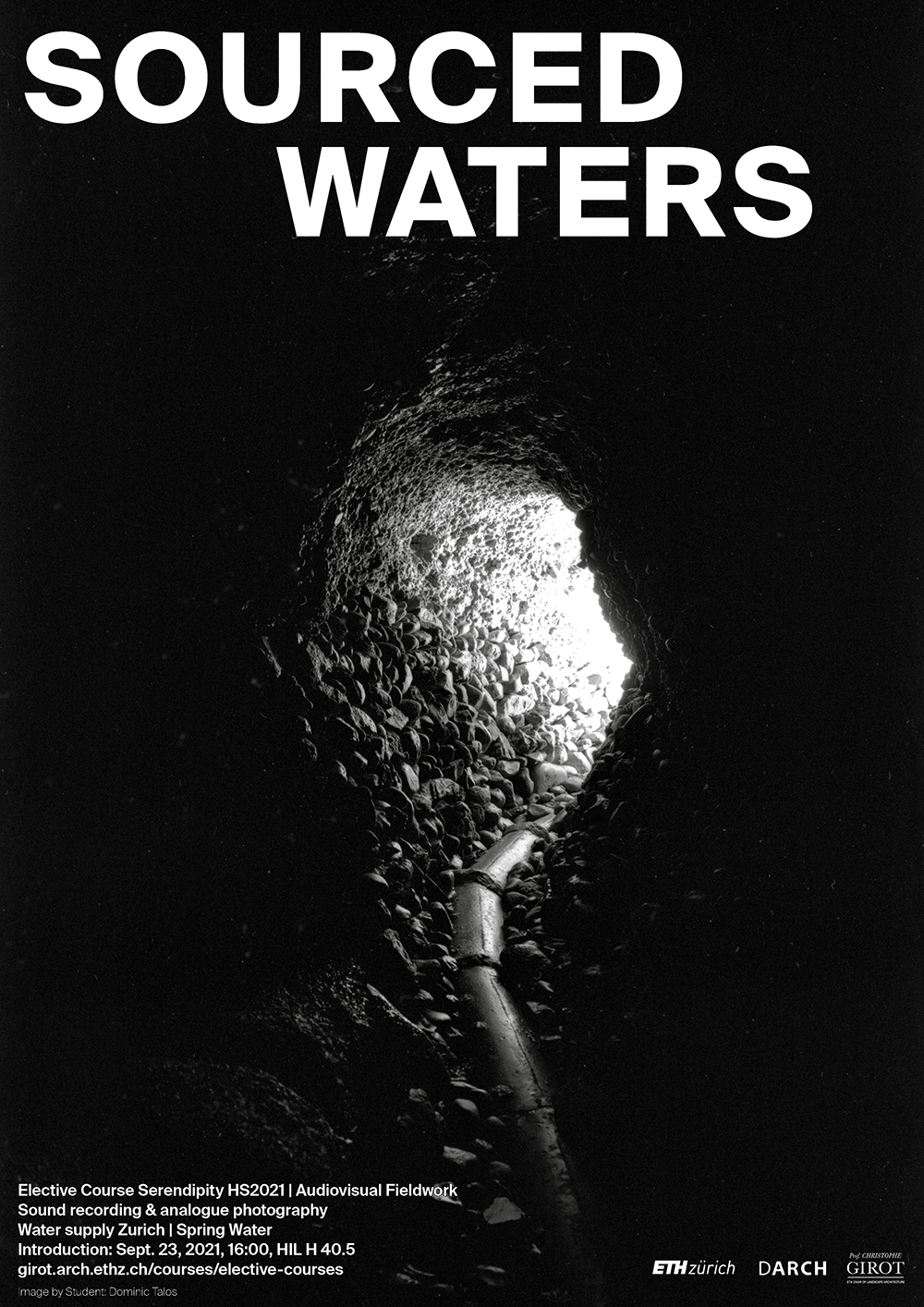 After having investigated the lake water catchment and treatment plant Zürich-Lengg and Zurich's water storage chambers the reservoirs we will put our attention with the course «Sourced Waters» on another starting point of the water infrastructure of Zürich:  to the spring water source.
Far from Zurich, the glacier shaped landscape allows usual access to lower water-carrying layers. After ten years enclosed between gravel and rock, the waters turn up in the wall of an ancient tunnel. 
We want to understand the spatial characteristics drawn by light and sound and create a new perception of these places. What spatial qualities can we find in these partially hidden underground landscapes? And how can we present these discoveries in an audiovisual work?
TOOLS: Analogue Photography / Sound recorders and contact microphones / analogue Photo development and digital Sound processing
TEACHING TEAM: Prof. Christophe Girot, Fabian Gutscher, Dennis Häusler, Matthias Vollmer
CONTACT:  Fabian Gutscher, Dennis Häusler
STUDENTS:
Baumann Eric, Du Hai Ming, Ebneter Marvin, Godlewski Przemyslaw, Girsberger Fabienne, Haas Lukas, Halvorsen August, He Shen, Hou Yaxin, Li Xiang, Nikolov Nikola, Pérez Gregori Guillem, Senn Aaron, Tanner Luca, Termens Guma Georgina, Wang Hongyi, Zanker Josin
In the late 19th century, shaken by typhus and in search of clean drinking water, the city of Zurich went a long way to find resourceful, protected and safe fresh water springs. Such Springs are plentiful between the Sihl- and the Lorze-Valley due to the geological gravel formations. Although being located in a different canton, Zurich was able to buy the water rights for as little as 3000 Swiss francs a year. Thanks to a network of pipes and engineering cleverness the water flows only by the force of gravity into the city and supplies – besides the standard water system – an autonomous emergency network of public fountains which for that matter keep running even during a complete power outage. Since 1914 Zurich gains a large portion of its drinking water from the lake even if a plurality of water sources is maintained for the water system to be resilient towards possible threats and natural disasters. Today roughly 70% of all drinking water in Zurich is lake water, equally 15% are gained from ground- and spring-water. 
Equipped with sound recorders and analogue medium format cameras we will spend time in and around the spring water catchment Kohlboden in the canton of Zug on a workshop weekend (2./3. October 2021) to investigate the transition and entanglement between landscape and infrastructure. At the very point where water transmits through rock and appears at the surface, it is captured and only with the force of gravity channelled to Zurich's many public fountains. 
Following the fieldwork, students will work on an audiovisual composition in the analogue PhotoLab and in the AudioVisual-Lab at the ETH Hönggerberg.
Notes: The course will be limited to 16 students. Participation on the following events of the course is mandatory: Introduction, Workshop, Mid- and Final Presentations. The Chair will provide some financial support (costs for production), possible additional costs (transportation, overnight stay, food and drinks) are asked to be paid by the participants. Basic trekking experience and outdoor clothing is required.
Fieldwork at the Water Sourse Kohlbodenquelle, Zug
Lab Work in the Dark Room at ETH Zurich