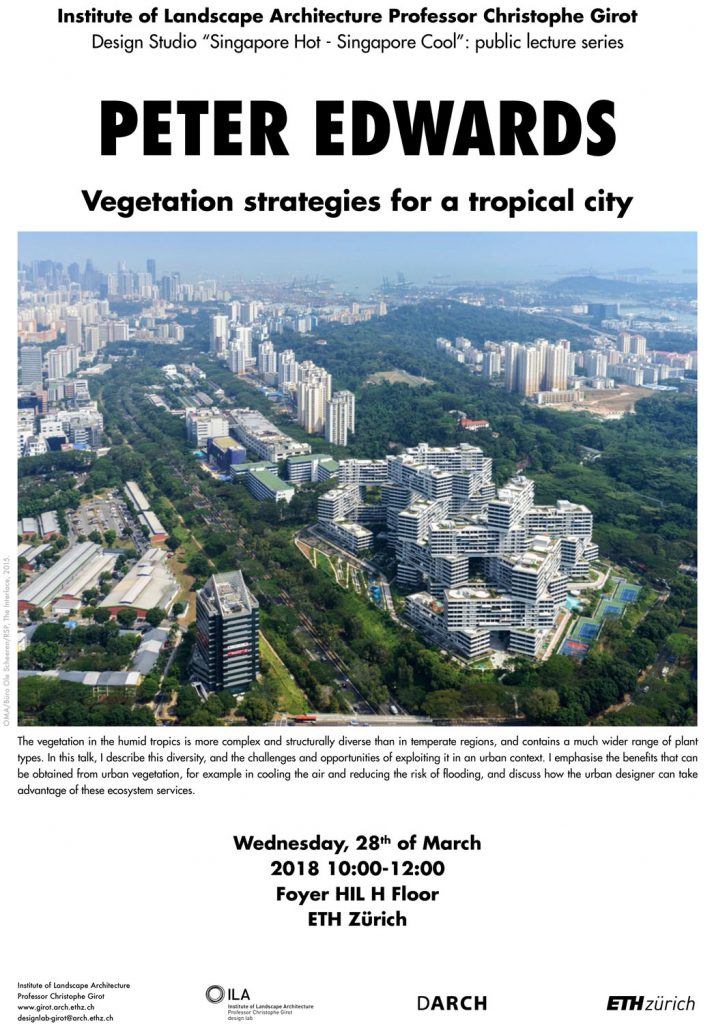 The vegetation in the humid tropics is more complex and structurally diverse than in temperate regions, and contains a much wider range of plant
types. In this talk, I describe this diversity, and the challenges and opportunities of exploiting it in an urban context. I emphasise the benefits that can be obtained from urban vegetation, for example in cooling the air and reducing the risk of flooding, and discuss how the urban designer can take advantage of these ecosystem services.
Peter Edwards is principal investigator of the 'Ecosystem Services in Urban Landscapes' project at the Future Cities Laboratory and 'Cooling Singapore' project at the Singapore-ETH Centre. He is also adjunct professor in the Asian School of the Environment at the Nanyang Technological University in Singapore. Between 2013 and 2017, he served as the director of the Singapore-ETH Centre.
Since 1993, he has been professor of Plant Ecology at ETH Zurich, where he also served as chairman of the Department of Environmental Systems Science. He was founder and first executive secretary of the Institute for Ecology and Environmental Management, a professional organisation for environmental practitioners. In Singapore, he leads his research teams to find means to maximise ecosystem benefits in urban environments and ways to mitigate the urban heat island effect in the tropics, in order to make cities more resilient and liveable.
Peter Edwards has always had a strong interest in the application of science and technology for better policy. At ETH Zurich, he was faculty coordinator and member of the executive board of the Alliance for Global Sustainability, a research partnership between leading universities. In 2016, while in Singapore, he initiated the Science, Technology and Policy workshop, in partnership with the Singapore-MIT Alliance for Research and Technology and the National University of Singapore.
DESIGN STUDIO