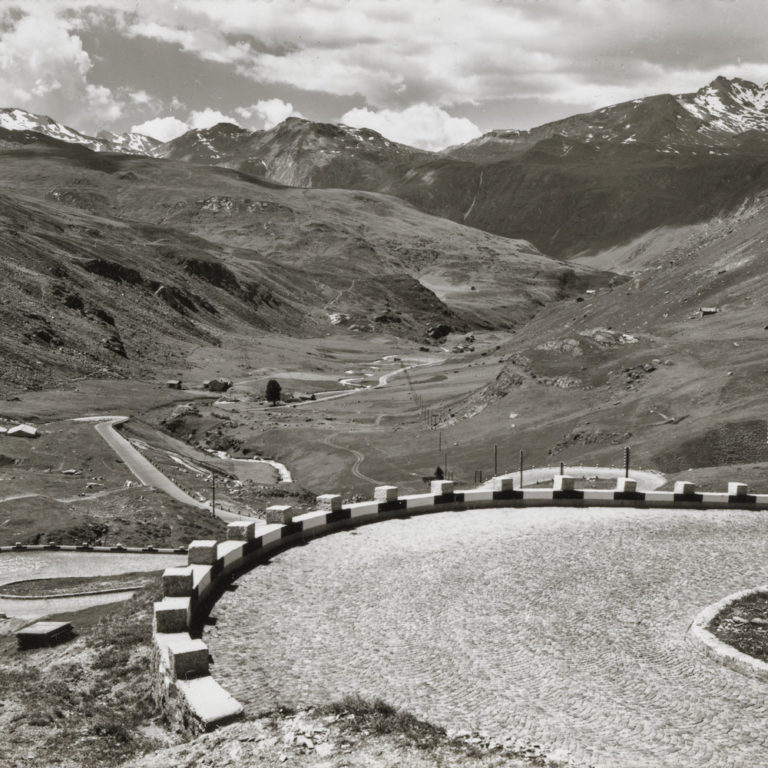 DOCTORAL STUDENT
ADVISOR
PROJECT TIMEFRAME
Ongoing
PROJECT PARTNER
Staging the Alpine Landscape. The Interrelation of Road and Landscape during the Modernization of the Swiss Pass Roads in the First Half of the 20th Century.
During the first half of the 20th century, the Swiss alpine landscape served likewise as economically essential travel destination as well as protective fortress. Thus, it was an important projection surface for national identity and the helvetic image abroad. On the one hand, the roads served as a stage for the sublime mountain landscape, and on the other hand, as reference to excellent road construction. Consequently, the modernization of alpine roads for motorized traffic grew to high cultural and political significance. The research project aims to trace and analyze the interrelation between the alpine landscape and the modernization of the Swiss pass roads in this context.
In the course of the 19th century, the construction of the so-called engineered roads had a significant impact on the accessibility of the alps. Therefore, it shaped the reception of the unity of road and landscape and still defined the idea of the Swiss alpine roadscape in the early 20th century.
In contrast, the modernization of the roads for motorized traffic was then a visionary focal point. The representatives of tourism and road construction envisioned the Swiss alps to be a scenery of delight when travelling by automobile, rewarding the few and elitist 'car wanderer' with flowing lines tailored to motoring travel. The design conception of the engineering innovations in road construction was thus confronted with a strong traditional iconography of the alpine landscape.
Additionally, a central component of the critical historiographical analysis is to identify transnational impulses. An essential aspect of the transnational references in the neighbouring alpine states is the synchronicity in the discourse relating symbols of national identity to the modernization of the alpine roads.
The research project assumes that aesthetic arguments played an essential role in negotiating and mediating the modernization of the Swiss mountain passes. Its representatives provided the design norms established explicitly for constructing alpine roads with the hallmark of a "harmonious integration of the road into the landscape". It was formulated as a decisive argument to promote the expansion at a political level. The underlying hypothesis is that the argument's effect was to articulate the modernized alpine road as a successful synthesis of technical progress and traditional landscape iconography.
Picture: Otto Furter, "Julierpassstrasse zwischen Bivio und der Passhöhe", around 1940
Source and Copyright: Verlag Otto Furter, Davos