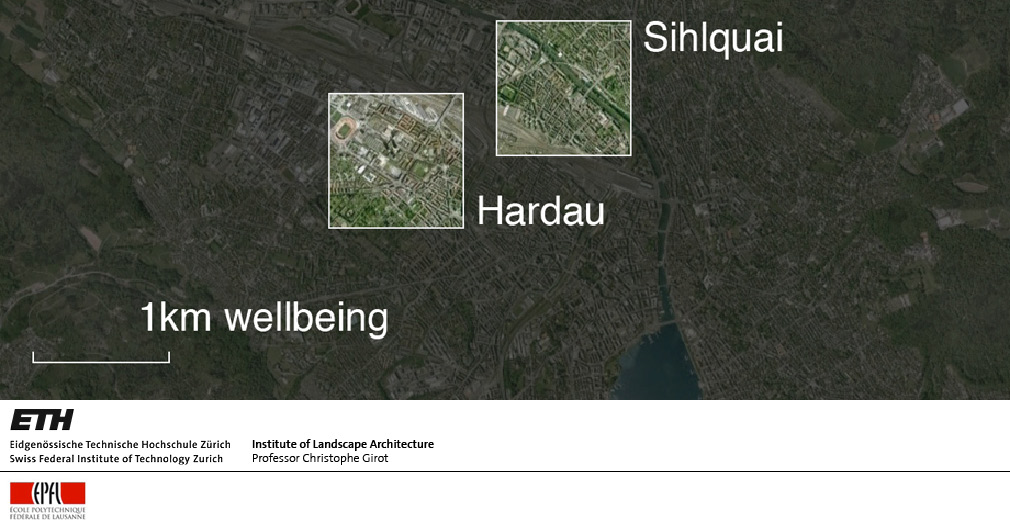 1 km Wellbeing: The Urban Landscape Observatory
The Urban Landscape Observatory is a cooperation between the Institute ILA NSL of the ETH Zurich and the Institute IA ENAC of the EPF Lausanne. This two-year pilot project seeks to define a new approach to the critical analysis of the city landscape both in scale and form based on applied heuristic observation using various modes of notation and recording.
GOAL
The Urban Landscape Observatory proposes a field of research that focuses essentially on the existing qualities of a contemporary public open space at local level. The notion of proximity refers to a particular scale of human activity and sensory experience. The analysis tools that are being developed attempt to cover not only established rational parameters, but also existential, relational, emotional and atmospheric ones. The goal of the project is to define the interface between the different methods of both institutes – Video and Mapping – and deliver tangible results for both disciplines. We believe that there is an urgent need for a new visual culture in the fields of urban and landscape analysis. The particular scale and mode of observation will become the cornerstone for an improved correlation between built form, landscape and public space.
The term "method" used here refers directly to the field analysis applied in the work with the students. Instrumentalized as an iterative process in both directions, the direct transfer between research and education describes a main concern of the Urban Landscape Observatory. Students were invited to critically reflect on the notion of proximity in their urban landscape readings adopting the proposed ways of investigation and representation. Their findings were consequently directly re-introduced in the teaching of the following exercises and subsequent semester.
link to EXPERIMENTING PROXIMITY – DEFINITIONS
link to EXPERIMENTING PROXIMITY – HARDAU
link to EXPERIMENTING PROXIMITY – SIHLQUAI
PROGRAM
During the fist year, students of the ETH in Zurich and of the EPFL explored various urban situations in Zurich and Geneva, selected by the teaching team. A common scale of measurement (a) and concept (b) is used to define the field of study: (a) One Kilometre is a distance which is not too taxing and can be covered on foot in 10 to 15 minutes. It corresponds also to a particular scale of dwelling and neighborhood, and, in the field of urban and landscape design, it is a unit of measurement to which numerous 20th-century theories, models and projects have been applied.
(b) The Urban Landscape is a cross-disciplinary category, which allows us to conceptualize all sensory and physical aspects of the outdoors, taking into consideration more particularly the questions of liveability, comfort, sustainability and aesthetics. It enables us to bring together the various cultural points of view of two complementary disciplines.
TEACHING + RESEARCH TEAM
Prof. Christophe Girot, ETH Zurich
Dr. Elena Cogato Lanza, EPF Lausanne
Dr. Fred Truniger, ETH Zurich
Dr. Antonio di Campli, EPF Lausanne
Susanne Hofer, ETH Zurich
Nadine Schütz, ETH Zurich
Frédéric Rossano, ETH Zurich
Johannes Rebsamen, ETH Zurich
Contact: Susanne Hofer
Funded by the Swiss Cooperation Program in Architecture