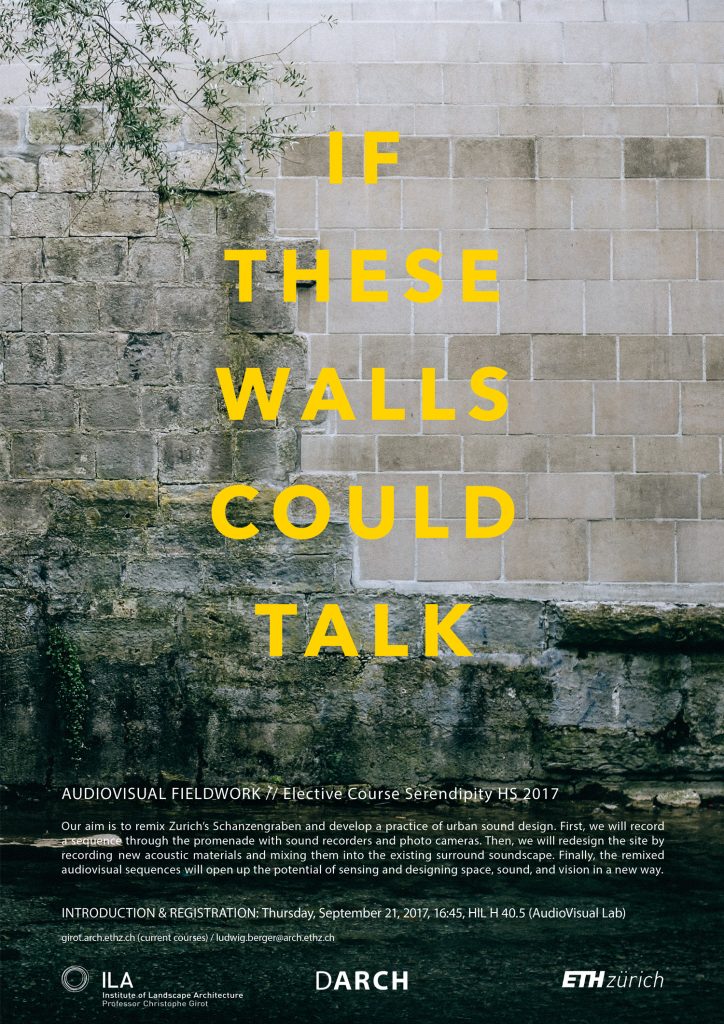 ABSTRACT
The site of this Wahlfach was shared with its twin course 'Walled River'.

GUEST LECTURERS
Prof. Dr. Kurt Heutschi
TEACHING TEAM
Prof. Christophe Girot, Ludwig Berger, Johannes Rebsamen, Matthias Vollmer
STUDENTS
Joshua Andres, Benjamin-Leon Blaser, Tanguy Romain Caversaccio, Yvo Corpataux, Lea Grunder, Raphael Hähni, Cyriac Jean Levet, Zofia Hanna Roguska, Anja Schelling, Wieland Albrecht Schwarz
CONTACT
Zurich´s walled river promenade offers a peculiar environment. Where the walls draw you down beneath the street level, you cross echoing bridges and diffusing walls, vibrant street scenes and silent non-places. Now the site activates your imagination: How will you unfold its audiovisual potential? In this elective course, you will have the chance to remix the Schanzengraben and develop a practice of urban sound design.
You will record a spatial sequence through the promenade with sound recorders and photo cameras. You will capture the exisiting space and analyze its potential for acoustic development. Do you want to introduce different ground materials or water sounds? Do you miss sharp echoes, deep hums, or tonal resonances? The surrounding city will be your resource for the collection of sonorous materials and acoustic effects.
Back in our AudioVisual Lab, you will redesign the soundscape of the promenade. Surround composition tools will allow you to place your collected sounds into the recorded sequence. You will then add a selection of photographs to your sequence to recreate an audiovisual interplay with the potential of thinking and sensing space, sound, and vision in a new way.
Elective Course Teaser Video by Ludwig Berger

Student Work: Benjamin-Leon Blaser & Raphael Hähni

Student Work: Michael Blaser & Yvo Corpataux

Student Work: Anja Schelling & Joshua Andres

Student Work: Tanguy Caversaccio, Cyriac Levet & Zofia Roguska

Student Work: Lea Grunder & Wieland Schwarz