Architectural Landscapes between Light and Shade | 21. – 27. October 2018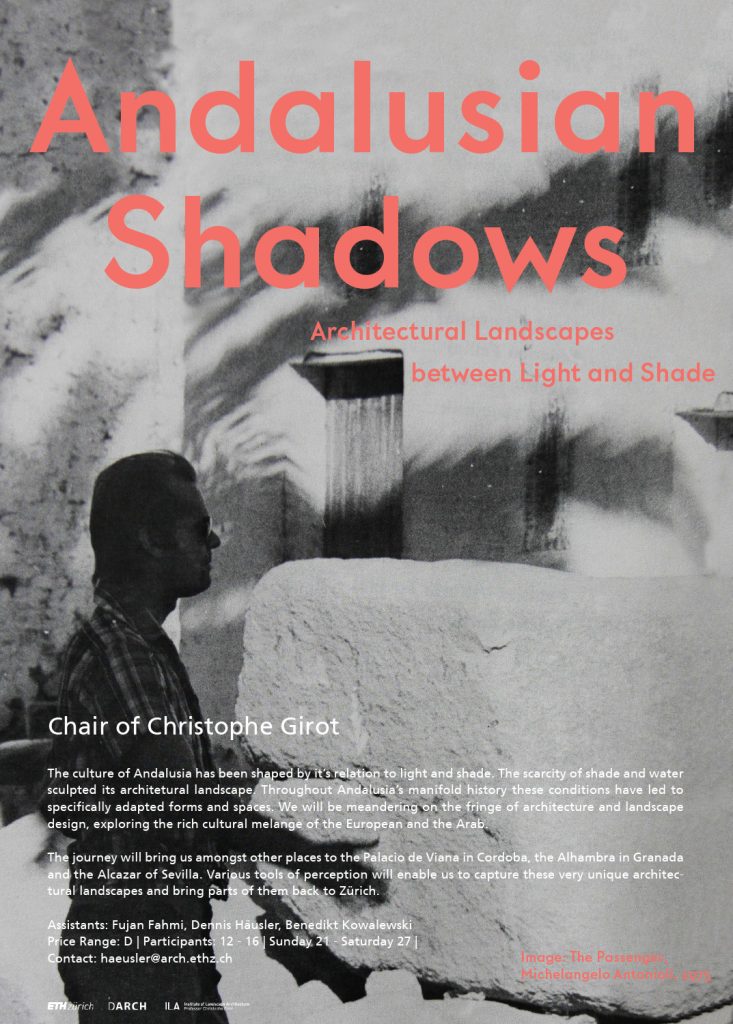 SEMINAR SCHEDULE
Timeframe: Sunday  21.10.2018 – Saturday 27.10.2018
Participants: 12-16 Students

Price Range: D (750 CHF – 1000 CHF)
TEACHING TEAM
Prof. Christophe Girot, Fujan Fahmi, Dennis Häusler, Benedikt Kowalewski
ENROLMENT
Overview: Seminar Weeks HS 2018 
Contact
The culture of Andalusia has been shaped by it's relation to light and shade. The scarcity of shade and water sculpted its architetural landscape. Throughout Andalusia's manifold history these conditions have led to specifically adapted forms and spaces.
We will be meandering on the fringe of architecture and landscape design, exploring the rich cultural melange of the European and the Arab.
The journey will bring us amongst other places to the Palacio de Viana in Cordoba, the Alhambra in Granada and the Alcazar of Sevilla. Various tools of perception will enable us to capture these very unique architectural landscapes and bring parts of them back to Zürich.
The Passenger, Michelangelo Antonioni, 1975