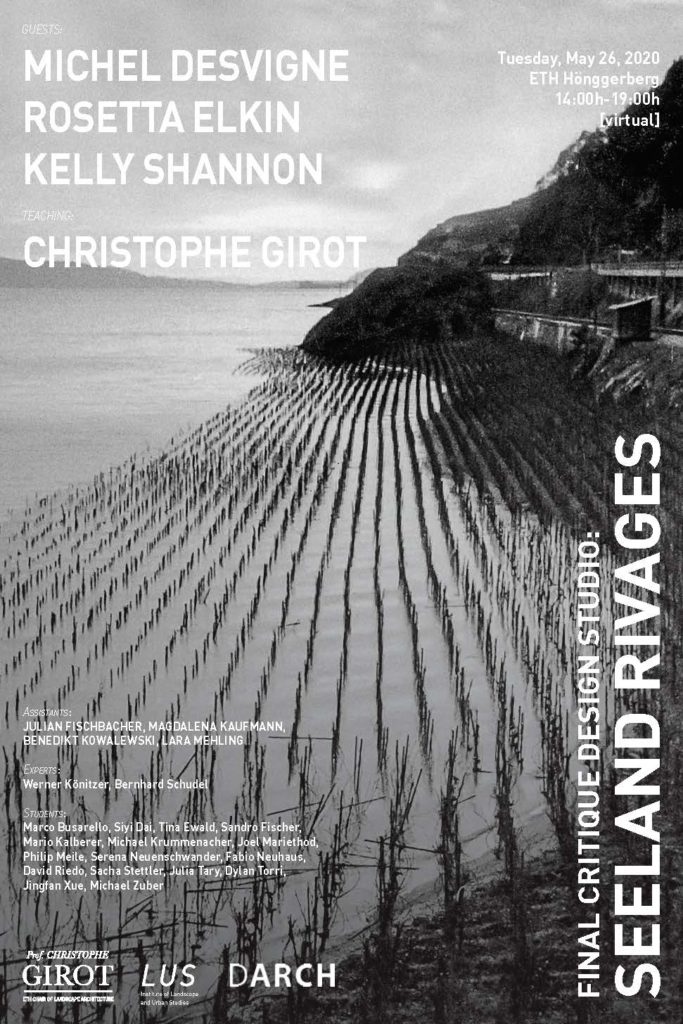 FINAL CRITIQUE SEELAND RIVAGES 
Wednesday, May 26, 2020
ETH Zoom Webinar [virtual] 14:00h – 19:00h
The semester is coming to an end and we are excited to announce the Final Critique of the "Seeland Rivages" design studio. Please join us to learn about potential new flood infrastructures for Switzerland's Jura lake region, a water catchment area for nearly a quarter of the country. Students will share their proposals for new strategic and complex networks of water filtration and accumulation structures aimed at mitigating the flooding problems while improving local living conditions.
INVITED GUESTS
Michel Desvigne, Landscape Architect based in Paris, France
Rosetta S. Elkin, Associate Professor of Landscape Architecture at Harvard University's Graduate School of Design, Cambridge, USA
Kelly Shannon, Professor of Urbanism and Landscape, Department of Architecture, KU Leuven, Belgium
TEACHING
Professor Christophe Girot
Chair of Landscape Architecture
ETH Zurich
Assistants:
Julian Fischbacher
Magdalena Kaufmann
Benedikt Kowalewski
Lara Mehling
Experts:
Werner Könitzer
Bernhard Schudel
STUDENTS
Marco Busarello, Siyi Dai, Tina Ewald, Sandro Fischer, Mario Kalberer, Michael Krummenacher, Joel Mariethod, Philip Meile, Serena Neuenschwander, Fabio Neuhaus, David Riedo, Sacha Stettler, Julia Tary, Dylan Torri, Jingfan Xue, Michael Zuber.