Designing Water Symposium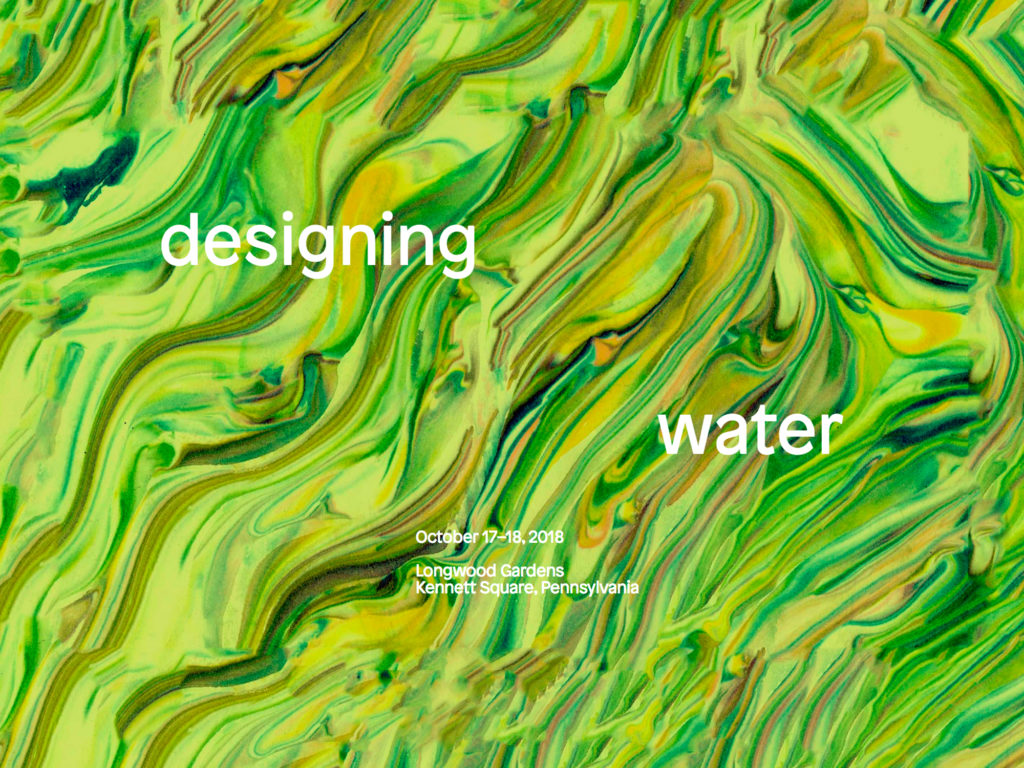 Professor Christophe Girot  will convene to discuss and advance concepts of and strategies for designing water from the scale of a singular garden feature to integrated regional systems at the Designing Water Symposium, Longwood Gardens, Pennsylvania, on October 17–18, 2018.
TIMEFRAME
17 – 18 October 2018 | For a full schedule, visit: designingwater.org/schedule.
ORGANIZERS

Longwood Gardens & American Academy in Rom
LINK
A Word from the Curator Julia Czerniak
Water is the most compelling and consequential design matter of the 21st Century. Not just a life source or a source of beauty, water has crucial social, cultural, and symbolic functions and plays an essential role in all living systems.
Please join me for a timely, inspirational, and dynamic event on the relationship of design and water across time, space, and scale. Our presenters are influential academic leaders and world renowned design practitioners from Asia, Europe, and North America. Each presenter will bring their local perspectives to truly global interests and concerns—such as ecology, aesthetics, meaning, and public space—as they assemble at Longwood Gardens in the picturesque Brandywine Valley.
The aim of this event is to recognize the significant history of designing water, interrogate the social, cultural, ecologic, and economic functions that designed water plays in the 21st Century, reconsider the leadership roles that the design disciplines can play in its shaping, and imagine ways to build features and infrastructural systems that expand the aesthetics of water while innovatively addressing urgent global challenges linked to climate change.
In doing so, Designing Water intends to project future potentials for our disciplines while educating us all about the crucial role design plays in shaping this resource. The event's diverse sessions set the coordinates for a thoughtful and lively discussion of issues that confront those involved in designing, planning, and managing water, as well as all of us that celebrate it.
Julia Czerniak
Chief Curator, Designing Water
Associate Dean and Professor, Syracuse Architecture
A Selection from Professor Christophe Girot's Lecture on "Captive Waters: about myths past, present and new"
The icy peaks of the Swiss Alps, as in countless other places, are melting rapidly, inexorably sublimating into mist and torrents an incommensurate amount of cultural and natural history. For a long time, these glaciers were the preeminent founding blocks of a world vision established by the early Romantics at the onset of the industrial revolution. We all have in mind the ominous shards of ice growing on glaciers called séracs represented by Hans Conrad Escher von der Linth that stood there as the intangible proof of some immutable form of nature to be feared and admired. But such visions at present have dried-up; and what is happening now is more than just an upheaval, it is a full scaled cataclysm. How does a climatic shift of this amplitude affect our understanding and practice of water in landscapes? From the myths of "eternal" ice that permeated the 19th century to those of rapidly vanishing icescapes of the early 21st century, the time is right to assess the reality of a dire situation. Can lessons be learned from history, that could help us confront the overwhelming issue of climate change and its impact on our use of water? Less than 400 years ago the return of a small ice age called the Maunder Minimum was felt as a real threat to the Alpine valleys of Switzerland. An army of icy séracs was seen marching down the mountains and invading the plains. It was therefore a relief when the climate warmed-up again by the mid-18th century and ice gradually receded. Ever since then countless village fountains have captured these glacial waters that attest to the importance of the Alps as a nurturing symbol of nature.
But drought and longstanding dry spells have also been the lot of desert cultures for millennia. These are the very same cultures that wrought water into some of the most exquisite displays of landscape art and architecture throughout the past. Could the general rarefication of water at present spell the birth of a new renaissance of aquatic refinement? An enhanced attention t'o water and how it is made captive through multiple facets would certainly help confer more value and comfort to our landscapes. But this doesn't seem to be the current trend, where a higher degree of technicity trusts detaching society even further from its environment, by making irrigation water, sanitation water and potable water artificial.
Efforts at extracting water from the sea and other recycling sources like ultrafiltration and condensation seem to point the way towards an even greater scarcity of water in the public realm. From the crystalline myth of an alpine spring surging from a fountain, we have moved into the technically clean realm of "new water" currently being produced from recycled waters and packed into plastic bottles.
There is something to be said about our changing attitude towards water and withdrawal from the public realm. Whether, above ground or below ground, artificial or natural, water will always be the measure of mankind's own vulnerability and finitude. Captive waters may be looked at as traditional or new, but will undoubtedly become a major preoccupation in this century. Although water's expression, form and use may change drastically in years to come, we will be reminded to cope with this change in our landscape work, art and expression. This will help create new myths of water, that will help explain of our fleeting history.
Head of the Institute of Landscape Architecture, Dean Elect at the Department of Architecture of the ETH in Zürich
Invalidenpark cascade, 1998 Berlin
Invalidenpark pond, 1998 Berlin
Invalidenpark wall with cascade, 1998 Berlin