Designing Water Symposium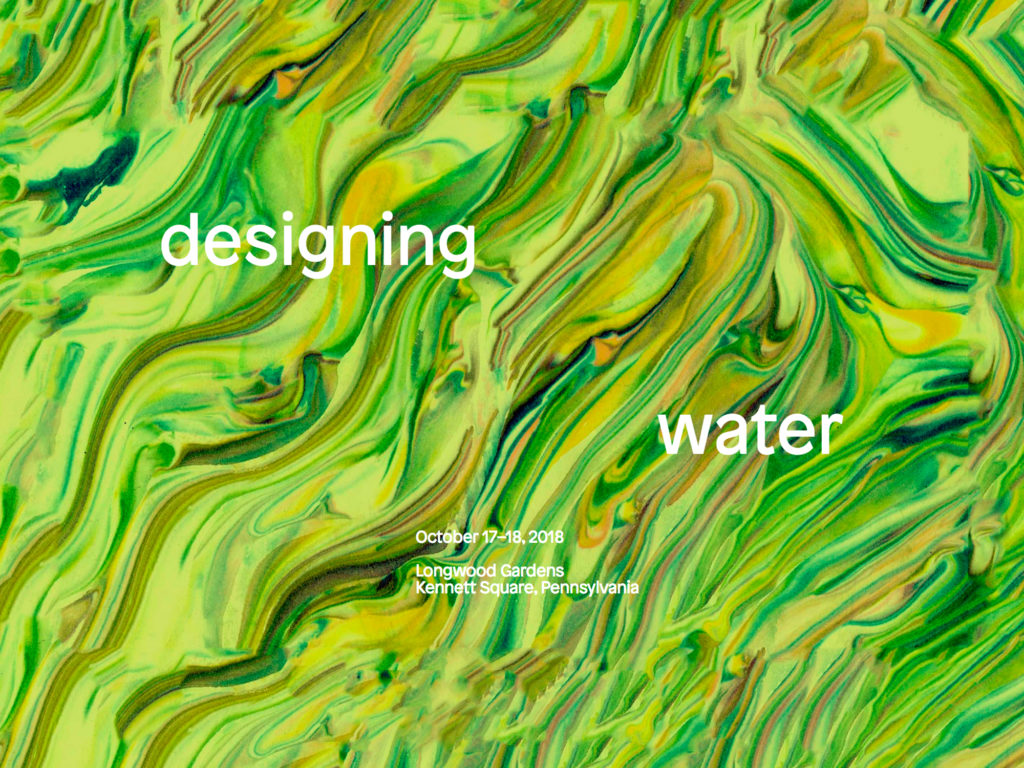 Professor Christophe Girot  will convene to discuss and advance concepts of and strategies for designing water from the scale of a singular garden feature to integrated regional systems at the Designing Water Symposium, Longwood Gardens, Pennsylvania, on October 17–18, 2018.
TIMEFRAME
17 – 18 October 2018
ORGANIZERS

Longwood Gardens
American Academy in Rom
LINK
For a full schedule, visit: designingwater.org/schedule.
Water is the most compelling and consequential design matter of the 21st Century. Not just a life source or a source of beauty, water has crucial social, cultural, and symbolic functions and plays an essential role in all living systems.
From the Curator
Please join me for a timely, inspirational, and dynamic event on the relationship of design and water across time, space, and scale. Our presenters are influential academic leaders and world renowned design practitioners from Asia, Europe, and North America. Each presenter will bring their local perspectives to truly global interests and concerns—such as ecology, aesthetics, meaning, and public space—as they assemble at Longwood Gardens in the picturesque Brandywine Valley.
The aim of this event is to recognize the significant history of designing water, interrogate the social, cultural, ecologic, and economic functions that designed water plays in the 21st Century, reconsider the leadership roles that the design disciplines can play in its shaping, and imagine ways to build features and infrastructural systems that expand the aesthetics of water while innovatively addressing urgent global challenges linked to climate change.
In doing so, Designing Water intends to project future potentials for our disciplines while educating us all about the crucial role design plays in shaping this resource. The event's diverse sessions set the coordinates for a thoughtful and lively discussion of issues that confront those involved in designing, planning, and managing water, as well as all of us that celebrate it.
I look forward to meeting you in October!
Julia Czerniak
Chief Curator, Designing Water
Associate Dean and Professor, Syracuse Architecture
SPEAKERS
Julia Czerniak
Professor & Associate Dean, Syracuse Architecture
Anita Berrizbeitia, ASLA
Professor and Chair of Landscape Architecture, Harvard Graduate School of Design
Elma van Boxel and Kristian Koreman
Founding Directors, ZUS [Zones Urbaines Sensibles]
James Corner, RLA, ASLA
Founding Partner and CEO, James Corner Field Operations
Georges Descombes
Principal, Atelier Descombes Rampini
James A. Garland, AIA, NCARB President
President & Founder, Fluidity Design Consultants
Adriaan Geuze, Prof., Ir., RLA, OALA
Founding Partner, Design Director, West 8
Christophe Girot
Head of the Institute of Landscape Architecture, Dean Elect at the Department of Architecture of the ETH in Zürich
Dorothée Imbert
Professor, Hubert C. Schmidt Chair in Landscape Architecture, The Ohio State University
Mary Margaret Jones, FASLA
Senior Principal, Hargreaves Associates and Hargreaves Jones
Tilman Latz
Landscape Architect ByAK bdla, Architect ByAK, Urban Planner ByAK
Michael G. Lee
Reuben M. Rainey Professor in the History of Landscape Architecture ; Associate Professor of Landscape Architecture, University of Virginia School of Architecture
Nina-Marie E. Lister, MCIP, RPP, Honorary ASLA
Associate Professor, Ryerson University; Graduate Program Director, Urban & Regional Planning Director, Ecological Design Lab; Founding Principal, PLANDFORM
Kate Orff, RLA
Founding Principal, SCAPE ; Associate Professor & Director, Urban Design Program, Columbia GSAPP
Colvin Randall
P.S. du Pont Fellow, Longwood Gardens
Paul B. Redman
President and CEO, Longwood Gardens
Mark Robbins
President and CEO, American Academy in Rome
Catherine Seavitt Nordenson, ASLA, AIA, FAAR
Associate Professor of Landscape Architecture, The City College of New York ;Principal, Catherine Seavitt Studio
Charles Waldheim
John E. Irving Professor and Director, Office for Urbanization Harvard University Graduate School of Design
Mason White
Associate Professor, University of Toronto ; Partner, Lateral Office
Kongjian Yu, FASLA
Changjiang Chair Professor of Design, Peking University College of Architecture and Landscape; President and Principal Designer, Turenscape; Fellow of the American Academy of Arts and Science