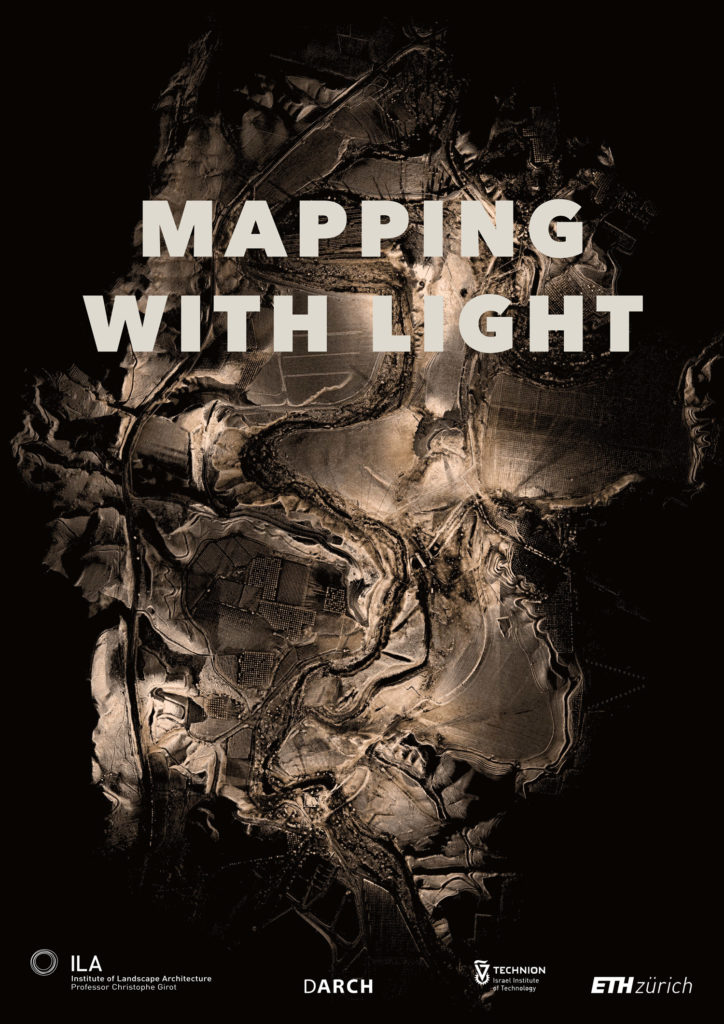 MAPPING WITH LIGHT
Celebration Chanukkah Apero
Gathering Location:
ETH Hönggerberg HIL H 40.9 (Stefano-Franscini-Platz 5), Zurich
Thursday, December 06, 2018, 18:45 -19:45 at the Chair of Landscape Architecture
Program:
19:00 Prof. Christophe Girot -Introduction
19:05 David Iselin – The Rift booklet
19:15 Ita Greenberg – Power plant project.
19:20 Ben Gitai- Mapping with light
19:45 lighting the lights
Please confirm your arrival via this mail: gitai@arch.ethz.ch
Transformation of Landscape on the Jordan River Valley 
This project will present how geographical knowledge, mapping surveys and ideology projected on the ground are combined together in a human act of power over nature. mapping with light will show how carthography relate to a broad swath of digital media and knowledge, drawing out what is conditioned by this biblical landscape. This territory on the Jordan river expresses in its history profound hope, progress and expectations for the entire land, a lightfield for the people living in it.
Dieses Projekt wird aufzeigen, wie geografische Kenntnisse, die Aufnahme von Kartierungen und Ideologie bezogen auf den Grund und Boden zusammengebracht werden zu einem menschlichen Akt der macht über die Natur. Die Abbildung mit Licht wird aufzeigen, wie Kartografie in Zusammenhang mit digitaler Medien und Kenntnissen zutage fördert was durch biblische Landschaft bedingt ist. Dieses Gebiet am Jordan River bringt in seiner Geschichte die tiefe Hoffnung, den Fortschritt und die Erwartungen für das ganze land zum Ausdruck – ein Lichtblick für die dort lebenden Menschen.
Project Team:
Professor Christophe Girot Head of Chair of Landscape Architecture at the Department of Architecture of the ETH, Zurich.
Professor Ita Greenberg Titular Professors GTA , Chair for the Architectural History of the Modernity, Zurich.
Professor Sagi Filin Department of Civil Engineering at the Technion in Haifa, Israel.
Ben Gitai – Doctoral Student ETH- researcher at the Landscape Architecture of the ETH, Zurich