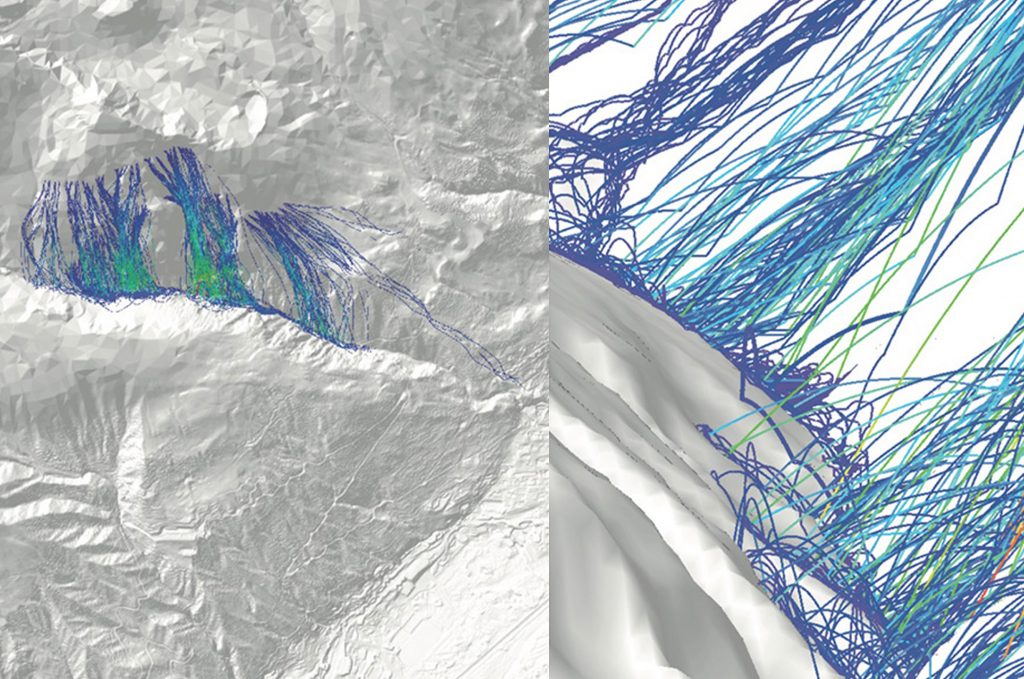 RESEARCHER
James Melsom
IN ASSOCIATION WITH
WSL – Eidg. Forschungsanstalt für Wald, Schnee und Landschaft
PUBLISHED RESEARCH
Presented at ACADIA 2015 Conference, Cincinnati

Davos Avalanche Simulation
Directed Deposition aims to develop alternative systems for urban site analysis which extend the act of collecting data about a location by utilizing low-cost helium balloons and UAV-based sensor networks operating from the ground level up to several hundred meters into the air.
The research concerns the designed redirection of erosion and landslide processes already observable in nature, taking the urbanised hillsides of the Alps as test case scenario.
Within this broader research, which has ecological, cultural, and formal potential, this paper shall explore the practical aspects of connecting design, and the designer, with the potential for understanding and designing these evolving mountain landscapes.
The focus of this research project has been to create a functional link and workflow between intuitive modelling software with highly specialised GIS oriented simulation packages. The research can capitalise on a broad and specialised tradition in alpine erosion research, centred on the development of engineering typologies and implementation practicalities in extreme topographies.

The cluster content has since been included in the peer-reviewed paper 'Directed Deposition' at ACADIA 2015 conference in Cincinnati, USA.