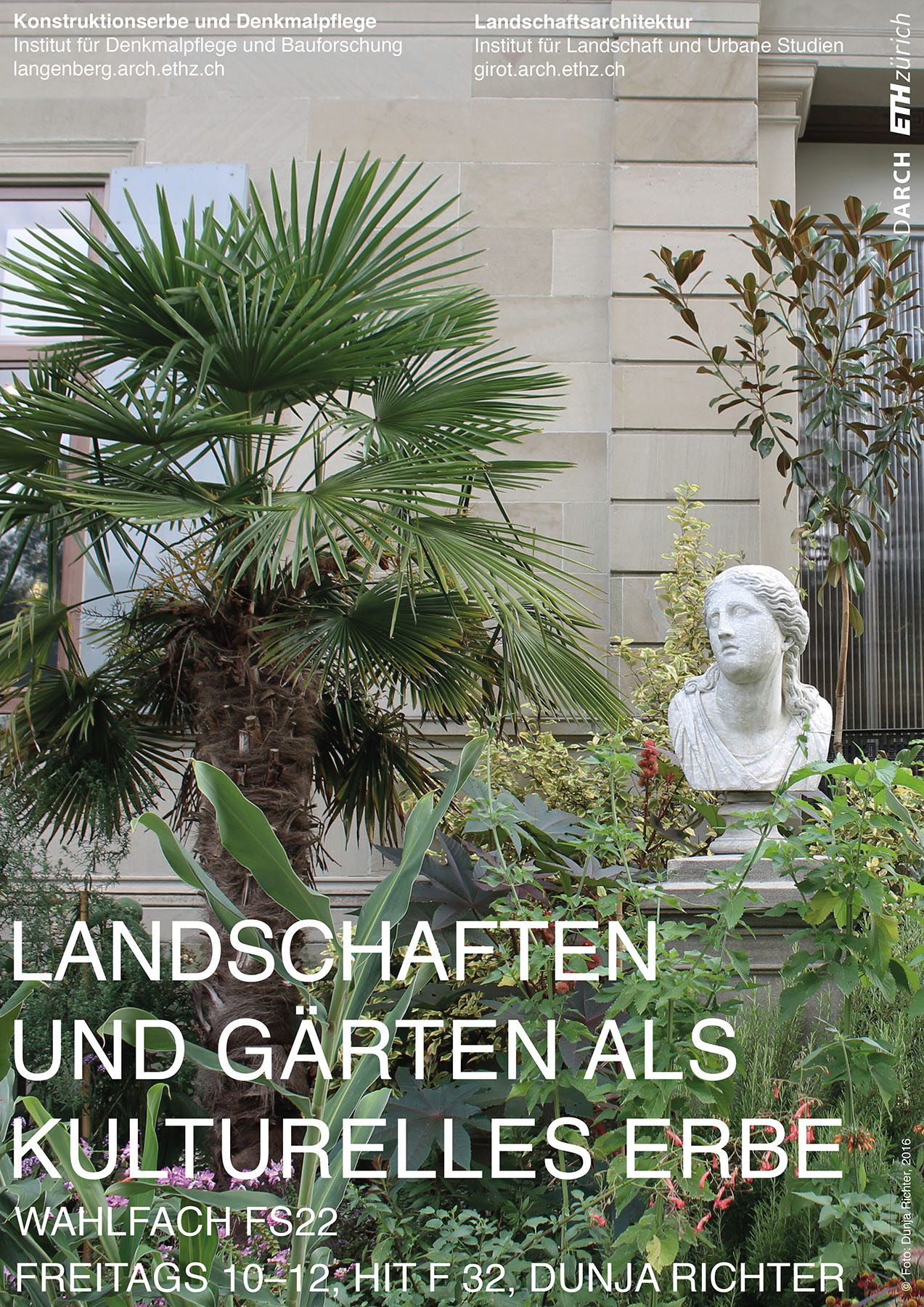 The elective «Landscapes and Gardens as Cultural Heritage. Research, Preserve, Develop» provides knowledge on how landscapes and gardens can be preserved as cultural heritage and responsibly taken into account in design and planning.
The course acts as a bridge between the disciplines of landscape architecture (Prof. Christophe Girot) and heritage preservation (Prof. Dr. Silke Langenberg).
DATES: FS 2022, Fridays, 9.45–11.30 a.m. HIT F 32
Excursion (mandatory): Saturday, 30 April 2022, full day
LECTURER: Dr. Dunja Richter
EXPERTS: Prof. Dr. Silke Langenberg, Prof. Christophe Girot and guests.
Landscapes and Gardens as Cultural Heritage
Testimonies of landscape architecture such as parks, gardens, squares and avenues are subject to constant change. Since they consist primarily of plants, they are particularly fragile compared to buildings. Similar to a parchment from which the text is repeatedly scraped and overwritten, garden art can be multi-layered carriers of meaning. Aesthetic paradigms, social conditions, values, the understanding of space and time or the preference for certain plant species are inscribed in them.
The aim of this course is to develop an understanding of the consideration of valuable landscape architecture structures and inventories in the design and planning process. The elective introduces the subject area, the goals, terms, institutions and legal bases of historic garden preservation.
Taking significant examples into account, current problems are discussed and methods for researching, preserving and developing of historically significant open spaces and cultural landscapes are taught.
After developing a theoretical basis, the students explore a park, garden or square in the practical part of the course. They learn to read the different layers of a site, uncover its history and present its value in terms of future development. The findings of this search for traces are documented in text, drawings and photographs and summarised in a survey.
The elective offers a platform for interdisciplinary exchange between students of landscape architecture and architecture. Guest contributions open up a framework for in-depth discourse.
On our field trip we will explore various historic gardens, parks and promenades in the city of Zurich.