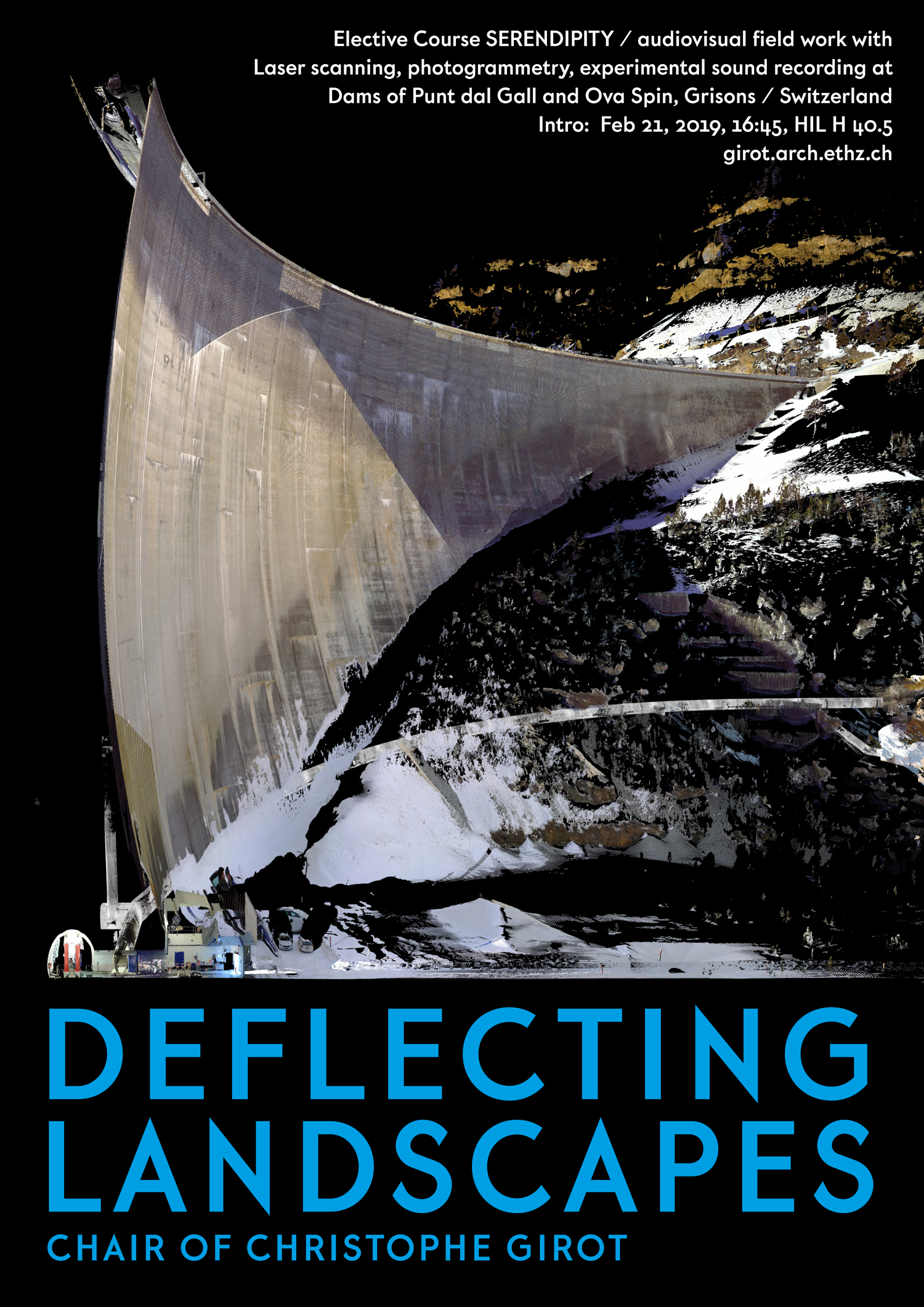 ABSTRACT
We will investigate the dams of Punt dal Gall and Ova Spin high up in the mountains of the Grisons. Where the system of water retention and hydropower production has a striking influence on the alpine landscape we will measure acoustic and visual information to create a new way of representing landscape.
TOOLS
Laserscanning / Electromagnetic Microphones / Photogrammetry  / Contact Microphones
TEACHING TEAM
Prof. Christophe Girot, Ludwig Berger, Dennis Häusler, Johannes Rebsamen, Matthias Vollmer
STUDENTS
Moritz Schudel & Jorgos Ledermann, Stefanie Peter & Reto Habermacher, Vivienne Galliker & Sandro Fischer, Julius Henkel & Noé Lafranchi, Dianer Ding & Sacha Rezzonico, Paula Bugla & Hao Wu, Jingfan Xue & Siyi Dai, Khevna Modi & Sanjana Roy
CONTACT
The alpine landscape of Europe is a rain catcher for the whole continent, the high mountains force the clouds to rain, the glaciers, alpin lakes and rocks function as a reservoir. After we explored the vast landscape of glaciers, we will step down to the next stage of the water stream. The momentum where the human takes an active influence on the delicate balance of supply and production.
We will investigate a dam high up in the mountains of Grisons. This system of water retention and hydropower production has a big influence on the landscape and the appearance of these huge infrastructures changed the perception of the alpine landscape forever. But what we perceive on the first glance is only the outside surface, a part of these concrete structures. They extend into the mountain and form a system of tunnels and chambers, human made constructions merge with the natural rock formation, concrete blends with landscape. How sound and light is rendered changes while we explore this landscape of deflection.
These structures will be measured with visual survey techniques and different approaches of acoustic recording on the inside and outside. We will search for gaps, joints, resistance, reflections and connections between landscape and concrete, production and protection, absorption and reflection. We want to understand the spatial characteristics drawn by light and sound and create a new perception of this place. How is the reflection or deflection of light and sound on the texture changing what we perceive as space, volume or a body? How can we reveal dimensions, hidden structures and sequences?
Working with a new way of presentation we ask the question how landscape and architecture can be shown in the future and how to translate modern techniques into a sensual experience.
You will learn to use laserscanning and photogrammetry to produce three-dimensional digital pointcloud models as well as sound recording techniques with a variety of microphones such as electromagnetic or contact microphones and work on the spatial perception through the combination of those two different media. Back on campus, you will compose a pointcloud animation in our Audio-Visual-Lab, a spatial composition of both the visual model and the acoustic recordings. Finally, you will present your own perception of this specific landscape as an audio-visual experience.
As a thesis elective you will have the chance to return to the same place in summer. You will find the same elements as in winter but a completely transformed landscape which will require new approaches, You can choose and create your own method and techniques.
A summary of the final studentes work: Moritz Schudel & Jorgos Ledermann, Stefanie Peter & Reto Habermacher, Vivienne Galliker & Sandro Fischer, Julius Henkel & Noé Lafranchi, Dianer Ding & Sacha Rezzonico, Paula Bugla & Hao Wu, Jingfan Xue & Siyi Dai, Khevna Modi & Sanjana Roy