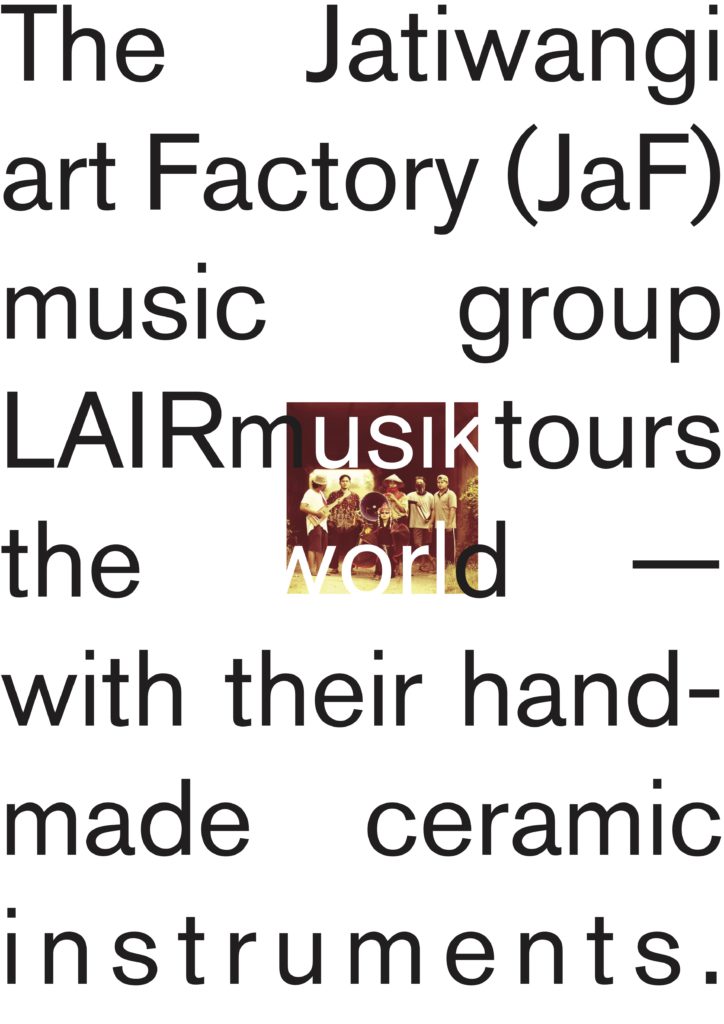 TALK AND CONCERT
with Jatiwangi art Factory and LAIRmusik
DATE AND TIME
Tuesday May 10th 2022
17:15h  | Talk/Introduction by Arief Yudi Rahman, Co-Founder and Board Member of Jatiwangi art Factory, at the Foyer (HIL H40.9)
18:00h | LAIRmusik (Tedi Nurmanto, Andzar Agung Fauzan, Muhammad Pipin Kaspin, Kiki Permana, Ika Yuliana, and Tamyiz Noor Ramadhan.
PLACE
Talk | HIL Foyer  (H40.9)
Concert | Roof Terrace
CONTACT
Jatiwangi art Factory (JaF) is an art collective with about fifty multimedia artists, musicians, designers, architects, and curators who are based at a former clay-tile factory in Jatisura, Indonesia.
JaF's discourses and artistic practice cultivate local rural-urban life in relation to land and the terracotta industry in Jatiwangi District. Clay (tanah) in the spirit of community empowerment is the land, material, and idea to create livable futures. JaF organises a broad range of co-creative activities, including community festivals, forums and co-creating rituals. With their latest project, the Teracota City, they are successfully negotiating the spheres between art creation and policy making.
JaF is a lumbung member at documenta15 in Kassel.