How to Disappear in a Library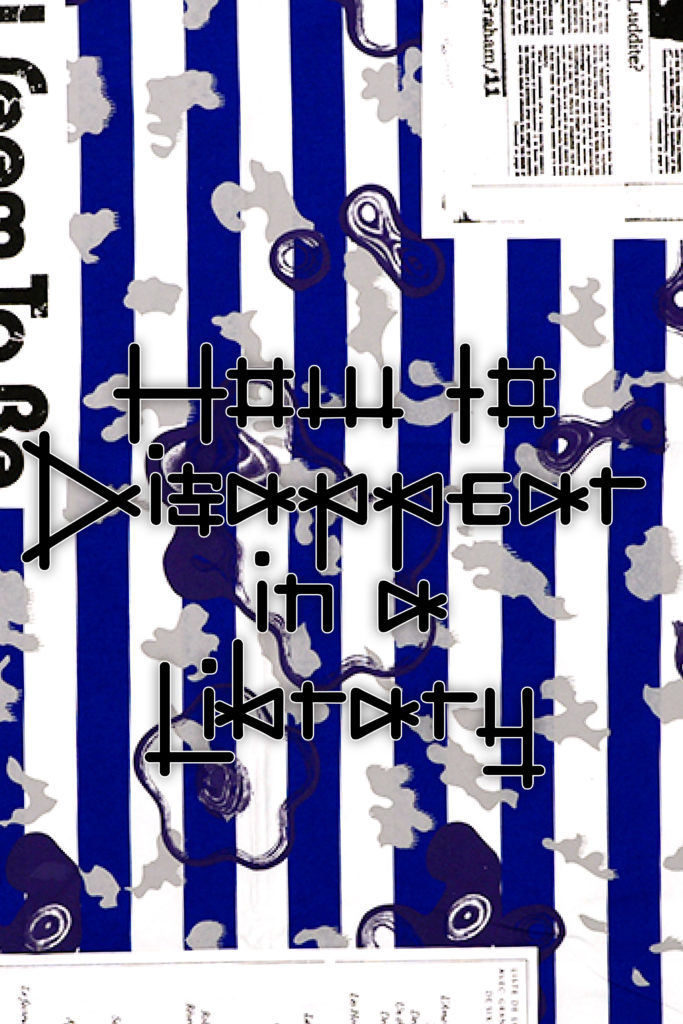 Vernissage am Mittwoch 18. Mai, 20h in der Bibliothek Dieter Kienast (HIL H57.2)
mit Field Recording & Landscape Music DJ-Set von Ludwig Berger
Ausstellung bis Freitag 03. Juni während den Öffnungszeiten der Bibliothek
Ein Projekt von Ludwig Berger, Marco Cascianelli und Myriam Uzor, in Zusammenarbeit mit Atlas Studio.
Contact
In seinem 1960 erschienenen Essay «Material and Man» schrieb der japanische Architekturkritiker Noboru Kawazoe ein kurzes Gedicht als Teil des Metabolistischen Manifests. Die Überschriften der drei Teile lauten (frei übersetzt):
Ich möchte eine Muschel sein.
Ich möchte ein Geist sein.
Ich möchte ein Bakterium sein.
Zusammen mit Philippe Egger und Jiajia Zhang hat Atlas Studio die Worte Kawazoes aus ihrem architektonischen Kontext herausgelöst und von der Stadt auf den Menschen übertragen. Als Resultat dieser Neuinterpretation ist eine Serie von multifunktionalen Tüchern entstanden. Diese bilden die Grundlage für weiterführende Zusammenarbeiten, die Bezug nehmen auf die von den Metabolisten geprägten Gedanken zu Mensch, Natur und derer ständiger Regeneration.
Nach Ausstellungen im Walcheturm Zürich, Indiana Vevey und Lokal-Int Biel werden die Tücher nun in der Landschaftsbibliothek Dieter Kienast am Hönggerberg gezeigt. Eingehüllt in eine textile Rauminstallation und begleitet von einem Klang-Konzert, wird auf dem Dach der ETH Hönggerberg während 10 Tagen eine thematisch kuratierte Bücherauswahl aus der Bibliothek präsentiert.
In his 1960 essay "Material and Man," Japanese architecture critic Noboru Kawazoe wrote a short poem as part of the Metabolist Manifesto. The headings of the three parts read (loosely translated):
I want to be a seashell.
I want to be a spirit.
I want to be a bacterium.
Together with Philippe Egger and Jiajia Zhang, Atlas Studio has taken Kawazoe's words out of their architectural context and transferred them from the city to the human being. The result of this reinterpretation is a series of multifunctional fabrics. These form the basis for further collaborations that refer to the Metabolists' thoughts on human beings, nature and their constant regeneration.
After exhibitions at Walcheturm Zurich, Indiana Vevey and Lokal-Int Biel, the fabrics are now on display in the landscape library Dieter Kienast. Wrapped in a textile room installation and accompanied by a sound concert, a thematically curated selection of books from the library will be presented on the roof of ETH Hönggerberg for 10 days.