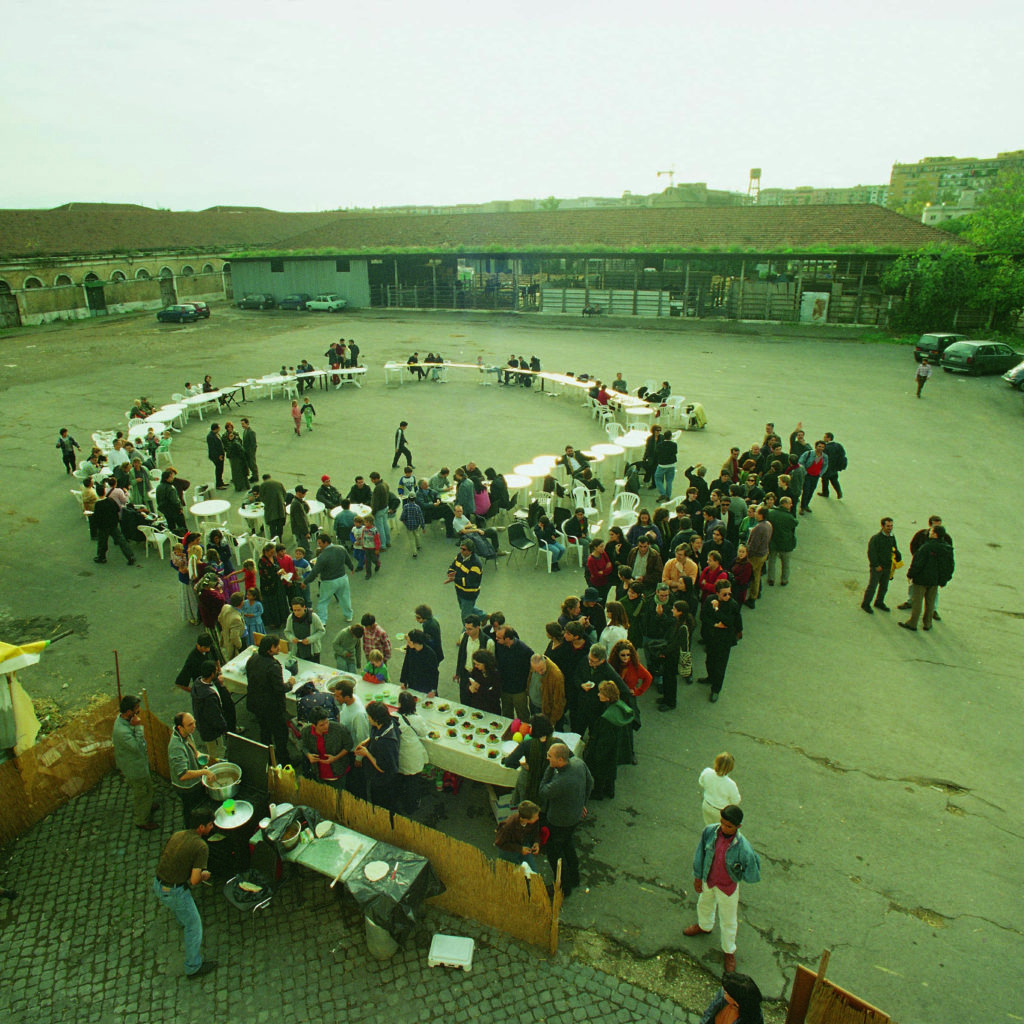 DOCTORAL STUDENT
ADVISOR
PROJECT TIMEFRAME
Ongoing
PROJECT PARTNER
Lucius und Annemarie Burckhardt-Stiftung
Architecture of Direct Action: Stalker/Osservatorio Nomade
The dissertation examines the practice of the Italian artist and architect group Stalker/Osservatorio Nomade with regard to questions of education, collectivity and interdisciplinarity between art and architecture.
Since the early 1990s, Stalker has dedicated itself to hidden urban spaces, marginalised inhabitants and repressed histories. Emerging in 1990 from the Italian student movement La Pantera, the group formed in 1995 under the name Stalker, inspired by Tarkovsky's eponymous film. The Roman collective became known for its expeditions through the outskirts of Italian and European cities. Territorial research was combined with walking as acts of collective and performative crossing to create new paths beyond existing orders. In the 2000s, this situationist practice increasingly gave way to longer-lasting interventions to transform precarious places within Rome. Consequently, social issues became more of the focus. Examples of Stalker's creations include a laboratory for multicultural symbioses on the former slaughterhouse in the Testaccio area, a neighbourhood TV programme in the neglected Corviale housing complex, and an atlas of informal dwellings along the Tiber river.
Stalker defies the usual categories. Although most of its members come from an architectural background and adopt artistic strategies, Stalker has never really been recognised by either the art or the architectural world. In addition, the group has never particularly valued recognisability and has always remained fluid as an organisation.
What unites and defines Stalker is its undogmatic nature, its bottom-up approach, its process-open, collaborative way of working—in essence, characteristics of anarchist practice. Due to the high value of direct engagement in situ (which can take the form of a game, a conversation, a walk, or squatting), Stalker's practice will be analysed using the concept of direct action. In addition to physical interventions, their practices also include more subtle, organisational engagements, with the consistent intention of changing social conditions in an autonomous manner. Stalker's commitment to education is also to be understood in this context. Education forms the framework and, at the same time, a common thread in the collective's history. Emerging from a student revolt against the grievances at the universities, Stalker increasingly developed its own pedagogical formats from 1999 onwards, and today officially sees itself as a school—with the latter taking place both inside and outside formal educational institutions.
Given the historical context, alleged anachronisms represent important guiding questions: What did it mean to strive to be a collective in the mid-1990s? What are the opportunities and problems inherent in collective agency and authorship? Why does Stalker rely on low-tech practices, precisely at the onset of the digital revolution?
The Stalker Archive that was compiled in 2016 at the Swiss Institute in Rome contains the primary data set, which will be studied in conjunction with the existing secondary literature. Its documents, videos, maps and photographs will be evaluated as part of this research project. In addition, oral history and participant observation will be employed as methodological tools.