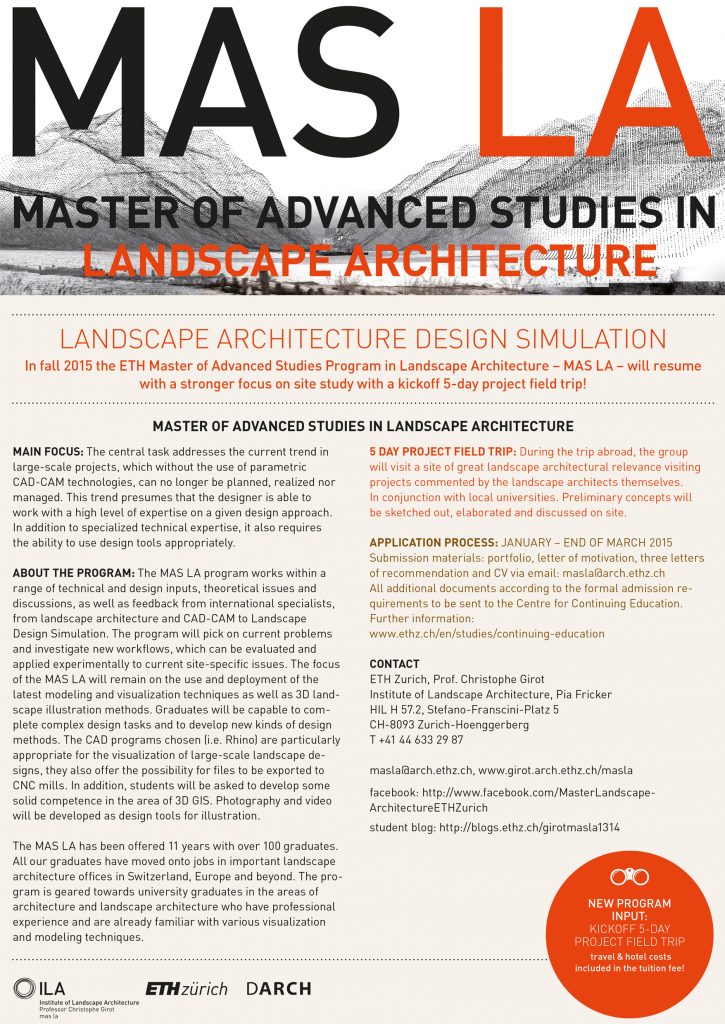 TIMEFRAME
2003-2016
DIRECTORS
Jacqueline Parish (2003-2007)
Pia Fricker (2007-2016)
ASSISTANTS
Martin Burr, Karsten Droste, Luis Fraguada, Susanne Hofer, Ilmar Hurkxknes, Aaron Lornicz, James Melson, Georg Munkel, Magda Osinka, Philipp Paar, Frédéric Rossano, Corine Rüegg, Clément Willemin
BEST OF MAS LA "Landscape Architecture Design Simulation"
BLOGS
Master of Advanced Studies in Landscape Architecture
The MAS LA has been offered at the Chair of Professor Girot from 2003 until 2016. Students from around the world have attended and form today a strong network of professionals in the field of landscape architecture, infrastructure and architecture.
The MAS LA, was a one year Postgraduate Diploma Program that teaches students and professionals the state of the art in tools and methods and their consequences to our field.
Our program specialized on advanced computational design and analysis techniques using the most up to date point cloud technology available.
A key element of the program was a scaled study of three sites, each growing with complexity and investigated through analysis and design. These studio exercises were complemented by a series of six focused workshop modules throughout the academic year, which focus on contemporary digital terrain modeling and visualization tools in combination with practice-oriented lessons in ecology, grading and drainage. In these sessions, invited actors in the profession guided participants in problem-solving various site dimensions. Finally, to assist the students in the development of their own design proposals, new techniques in digital landscape fabrication were taught in conjunction with more conventional hand modeling and design techniques by a team of recognized practitioners and experts.
MAS LA students have been trained in landscape design and fabrication by approaching complex ecological projects from a variety of angles and through a wide range of methods for analysis, visualization and synthesis. In addition to being introduced to principles of aesthetics and ecology, an emphasis on modeling and visualizing landscapes will further develop the studio's landscape architectonic compositions. Students employed CAD programs and rendering software such as Rhinoceros and Cinema 4D to visually communicate their designs. These has been further tested physically through computer-controlled milling machines capable of 3D fabrication. While students have been introduced to these programs in technical workshops, prior knowledge of 3D software related to the disciplines of architecture and design is strongly recommended. The objective of the program was for students to master the entire design process from field exploration and analysis to design, visualization and fabrication in the span of a year.
Graduates of the MAS LA program are prepared to address landscape architectural issues within the natural and built environments through a practice-oriented methodology and an experimental approach to design. Our graduates have found jobs in the most prestigious offices; they are capable of executing complex tasks within all phases of design; some have developed new landscape design ideas by establishing their own practices. Lastly, working hand in hand with architects, urban planners and city authorities, the goal is to train graduates of the landscape architecture program to be able to elaborate and communicate their design ideas professionally.
ALUMNI
Karin Aemmer, Ioanna Antoniadi, Claudia Aracci, Maria Arquero de Alarcon, Daniel Auderset, Sagik Barbarian, Chrisine Baumgartner, Tom Beterams , Maria-Chiara D'Onofrio Werder, René Dalucas , Maria del Camino Escosa Garcia , Enrico Demattè , Fei Duan , Aris Efthymiadis , Isabel Fernandez , Carolin Fickinger, Lorenzo Figna, Siri Frech, Jacqueline Frizi, Erick Galicia, Andreas Gantenbein, Dominique Ghiggi, Hailiang Gong, Ioulia Goula, Sabine Gresch , Maryam Hajizarghani, Nicole Hartmann, Silke Hartmann, Maki Hasegawa, Roland Herzog Krzyzanowski, Anette Hirt, Qingzhao Hu, Enise Karacizmeli, Christina-Fani Karakalpaki, Hakki Karaman, Karolina Katsambi, Emma Kaul, Tania Kausha, Elpiniki Kekelou, Thomas Knüvener, Alexander Kochan, Angelos Kominos, Aspasso Kouzoupi, Ana Krstulovic, Karol Kruk, Stefan Kurath, Salome Kuratli, Effrosyni Laskari, Carl Lucca, Dimitris Manolis, Aikaterini Margariti, Gebhard Merk, Ging Metchanun, Ramzi  Mezher, Daniel Montes Estrada , Rupert Muldoon , Inês Nisa, Eleni Nodara , Wolfgang Novak , Emilio Ontiveros , Georgios Orfanopoulos, Sofia Paisiou, Marco Paniga, Triada Papanakli, Damien Pericles, Efthalia Poziou, Xiaoxue Qui, Anastasios Roidis, Alexandre Roulin, Natalia Roussou, Corina Rüegg , Mantanya Sack, Karla Saldana Ochoa, Georgios Sarmaniotis, Sandra Schlosser, Dieter Segerer, Siamak Shahneshin , Gaganjit Singh, Sabina Stählin, Loulitta Stavridi, Vasiliki Stavrotheodorou, Hanako Suzuki, Ankita Thaker, Argyro Theodoropoulou, Martina Tomsic, Marina Tsintzeli, Emmanuel Tsolakis, Liesl Vanautgaerden, Cédric Von Däniken, Mohamed Wahab, Anna Walewska, Miriam Werder, Chantal Wuhrmann, Pablo Zamudio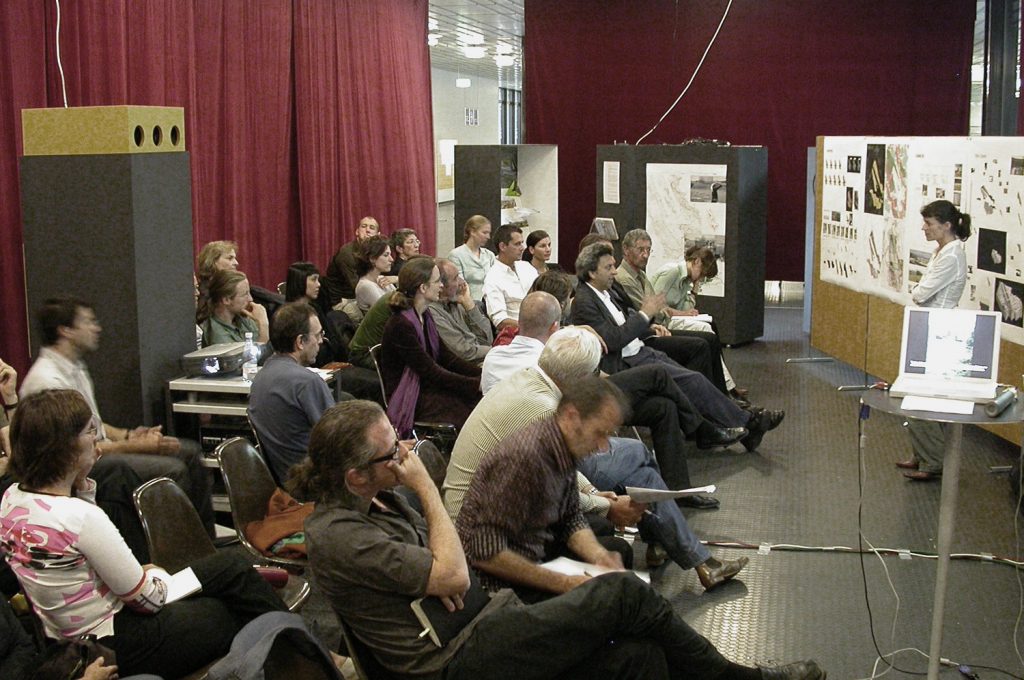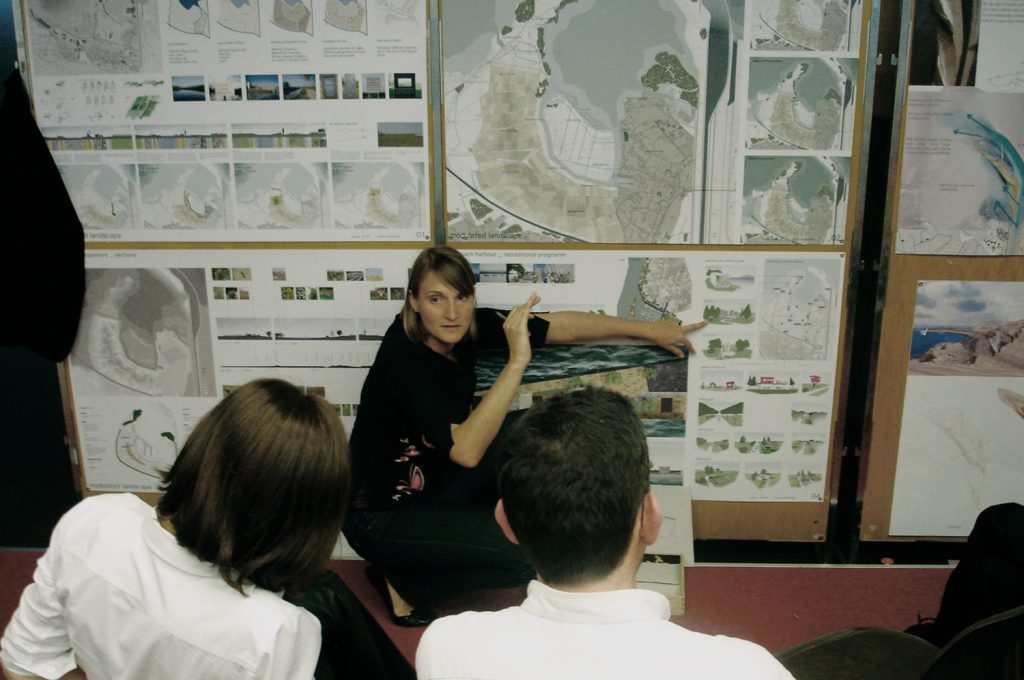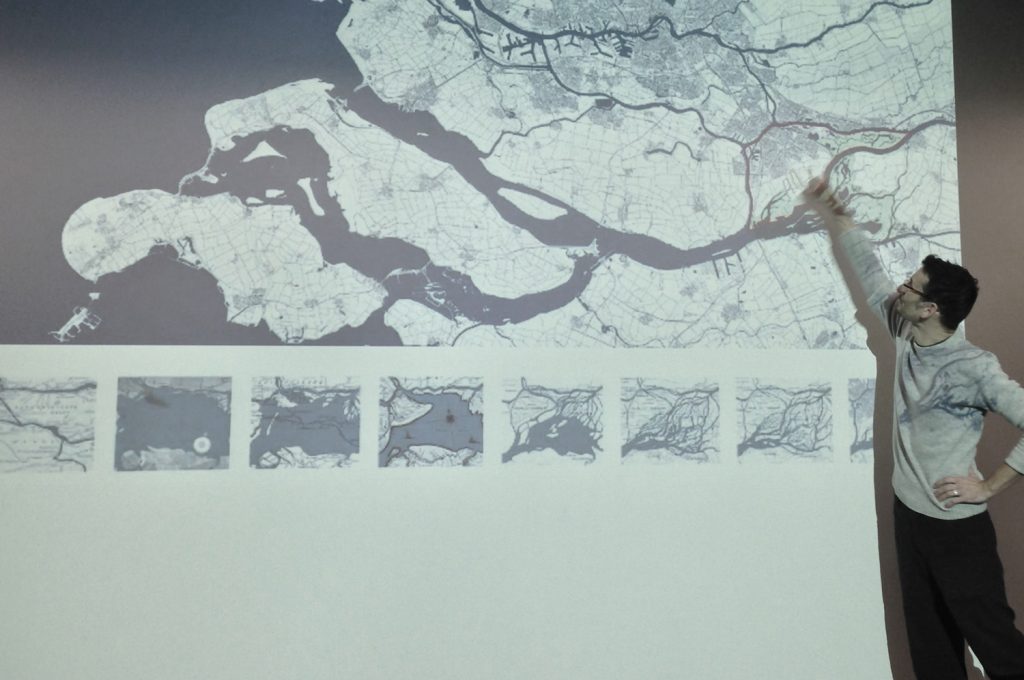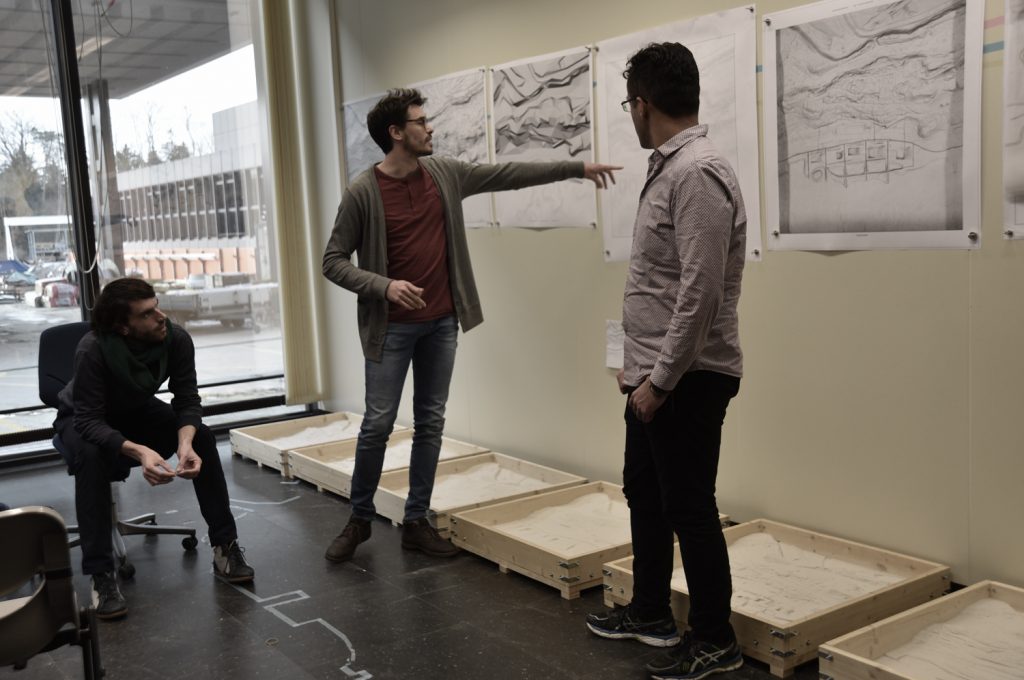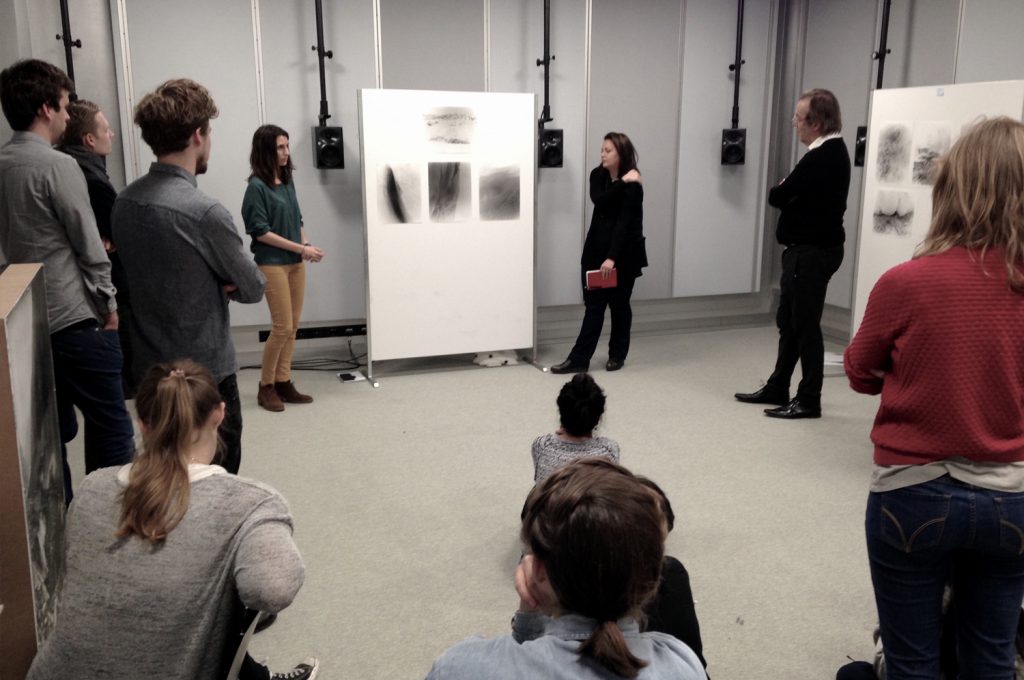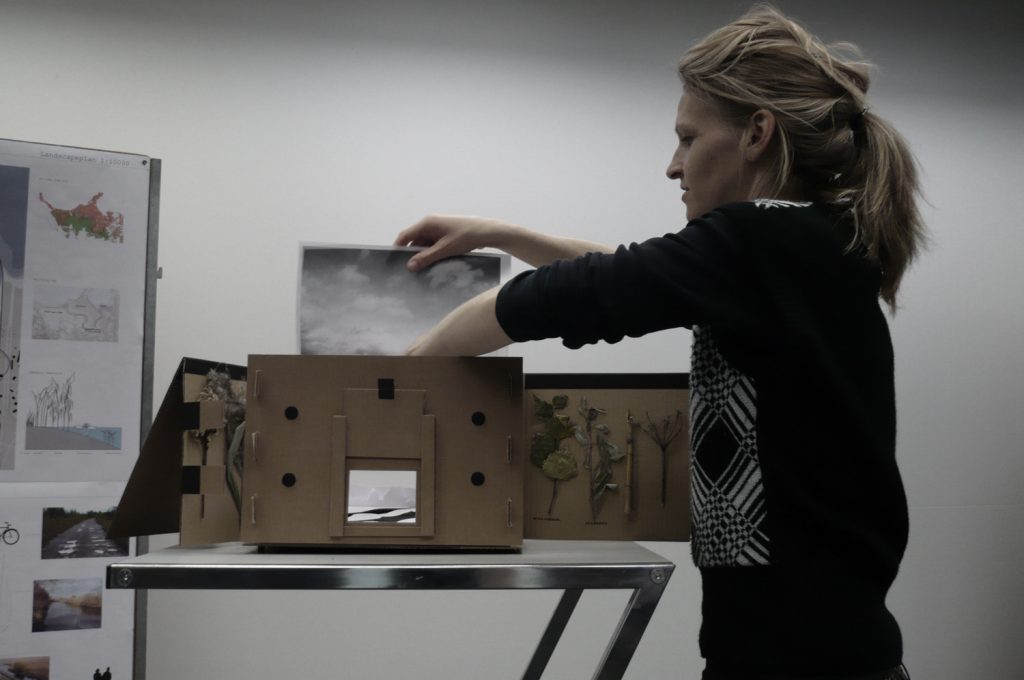 IOULIA GOULA, MAS LA 2010-2011
"The decision to complete a Masters degree at ETH came at an important crossroads of my life. I knew I wanted to expand my knowledge base and take my theoretical skills to the next level. When studying abroad, one cannot be certain what to expect. Having said that, the MAS LA program not only fulfilled my expectations but surpassed them. This program proved to be an ideal transition from theory to practice. It complemented my knowledge with the tools necessary to understand, develop and apply my skills to the practical aspects of professional practice. It helped me enrich my perception of landscape architecture and broaden my horizons with concrete applications. Apart from elevating myself academically, after completing the program I was able to position myself in an increasingly competitive market with the appropriate skill set to meet the highest standards required. I am extremely pleased to say that to this day, I am successful in facing the challenges ofmy working environment and am able to engage in all our projects with confidence. Last but not least, during the MAS LA program I had the opportunity to build strong relationships with colleagues and faculty that I will always cherish."
CLAUDIA ARACCI, MAS LA 2012-13
"Having already worked in the field of landscape architecture I decided to join the MAS LA to experience a new way of designing land and territory. In fact I was able to improve my design skills and graphics by integrating advanced software tools for analysis, research and visualizations up to parametric design, which was a totally new discovery for me. The MAS LA also gave me the opportunity to examine some theoretical and historical topics of landscape architecture in-depth. During my final synthesis project I concentrated on landscape infrastructure as I was especially interested in the Swiss mobility network system in the large scale. Once back in my home country of Italy, I felt pushed to find a job in the domain of civil engineering as landscape is a crucial element in the design of infrastructure. 3D tools have become part of my everyday work: GIS as an analysis tool for urbanism, visualization software for 3D views and perspectives, and Rhino to create fast topographical models and video for animated presentations Landscape architecture understood at all scales has become part of my way of designing."
ALEXANDRE ROULIN, MAS LA 2013-2014
"After five years working as a landscape architect in Switzerland, I realized that the digital tools I was using in my day-to-day work were limited and did not allow me to improve my design skills. In the MAS LA program, I became aware of the necessity to approach landscape projects in a 3D way, to understand its whole potential and complexity. It may sound radical, but I think that drawing sketches on tracing paper belongs partly to the past. Even though I still may use "conventional" techniques, I will first investigate the terrain in all its complexity by using the 3D tools and techniques I learned during the MAS LA. The manner in which to apply them in real practice is often still broad and not yet well defined. However, during my final synthesis module of the MAS LA program I could apply the taught techniques and tools within a "Agglomeration Project" and in landscape planning. I believe that the freshness and the accuracy of the output, especially the visualizatios will be really convincing for a presentation to a city or regional council."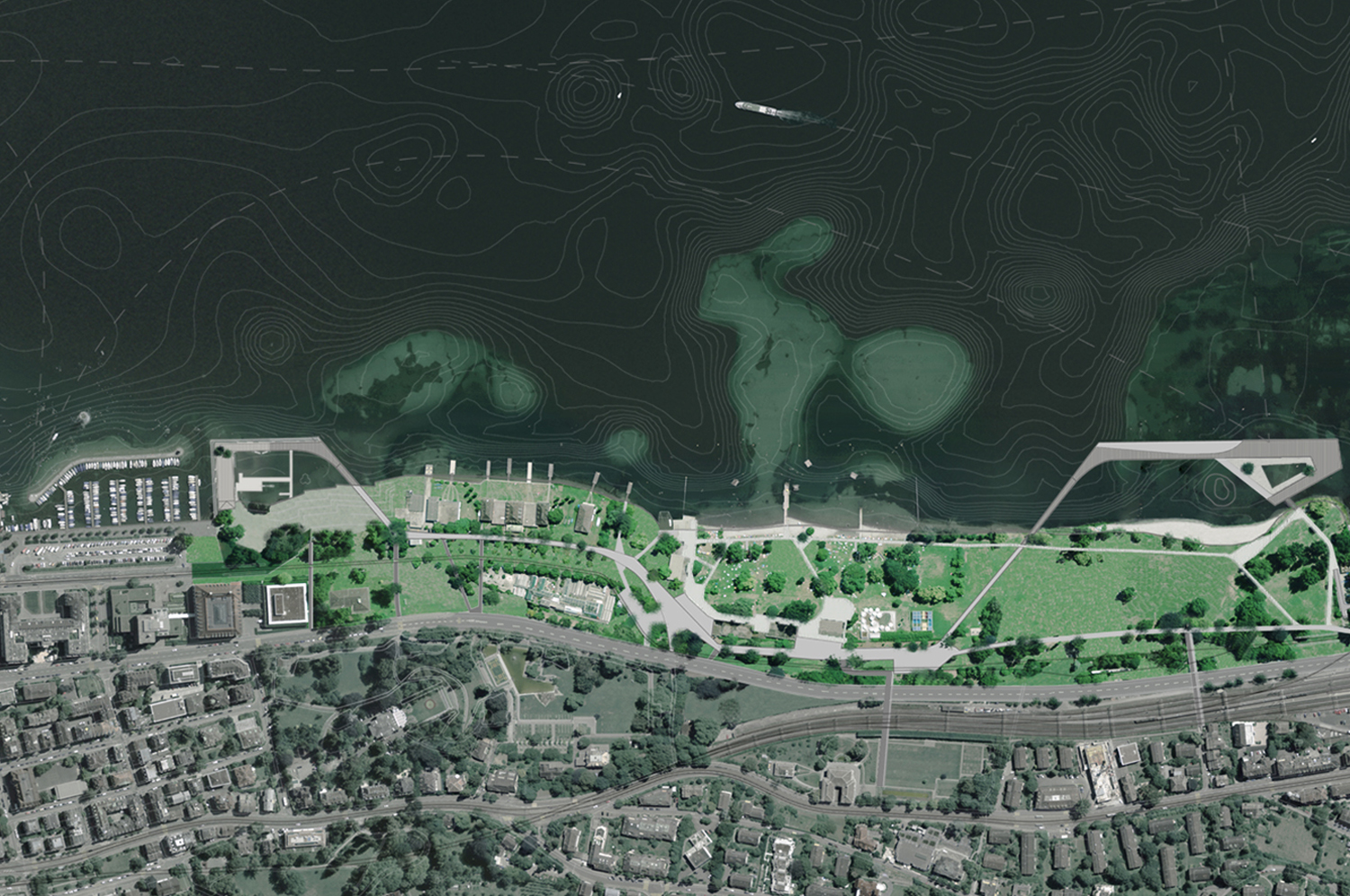 Student Work: Emma Kaul, Karla Saldana
Student Work: Camino Escosa, Katerina Margariti & Efthalia Poziou